Joined

Mar 26, 2017
Messages

1,114
Solutions

1
Points

570
Qantas

Platinum
Virgin

Gold
Tasmania is a place MrsK and I have enjoyed travelling to over the years. I was fortunate to first travel there in 1980 working as an Assistant Surveyor at a mine up in the north-west, in Luina and spent time exploring the wilderness around the mine, as well as the heady heights of Hobart. Over the next 40 years I have been back for work in other roles, catching up with people in a variety of places.
MrsK only had the opportunity to get to Tasmania several years ago, and we have made a few trips, having stayed in Hobart and explored the area to the east including down to Port Arthur, and also in Launceston, again exploring the Tamar Valley and across to the east coast.
In March 2020 we planned to be down there again, for the
Hobart Wine, Food and Gin tasting trip – March 21 2020
that
@Tassieoptom
was very kindly organising. MrsK used her $450 AMEX Credit and we were ready to go. Then that Covid thingy came along and we had to cancel and put the flights into credit. MrsK's nephew then went and booked a wedding in Melbourne in late December, so we thought we would use the flights for that (fingers crossed) and add in Tasmania, as we had to go through Melbourne anyway. At that stage I tossed in the idea of booking a campervan. MrsK had had a really bad camping experience in her late teens, and it still haunts her today, so she was a bit nervous. I looked at what was available, and picked out a couple of options, all of which had toilet and shower, which was a non-negotiable requirement from MrsK.
Me, I had grown up camping and also spent many years in sleeping in swags when I worked in the outback and beyond as a surveyor. Plus I had prior experience in the
1970's with my family
, spending 4 and a half months in one through Europe. Although MrsK wasn't into recreating that experience.

I hadn't booked anything at that stage, given all of the unknowns, and as it was the wedding date had to be postponed, and they reset it for late March this year. In early December we bit the bullet and got the flight bookings made, and booked the mighty
Sandpiper
van through
Cruisin Motorhomes
. That decision saved us a lot of money as we locked in the price at about half of what people were paying in Feb/March. At that stage, I noticed on some of the AFF Posts that
@bpeteb
was also going to circulating around Tasmania at the same time, although in slightly different directions and places - which he has recorded
Planes, boats and automobile, it's Tassie road trip time.
All I can say, it was a lot more eventful than our trip.
With the Family Wedding in Melbourne on the Friday, we flew down on Thursday and booked an AirBnB in Doncaster (having grown up in Melbourne, those were words I never thought I would ever say), and then flew down to Hobart on the following Monday. We had the van booked until the following Saturday, with Saturday night in Hobart and fly home on Sunday. The Saturday night had to be in luxury accommodation, in case MrsK didn't find the campervan life to her liking and needed to recover (she did enjoy it, and the place we found was very nice).
The day came, and after making our way to the airport and seeing off the kids and the grandson on their way back to Sydney, we settled into the Qantas Lounge for pre-expedition glass of bubbles. Our mighty aircraft waited for us at Gate 24.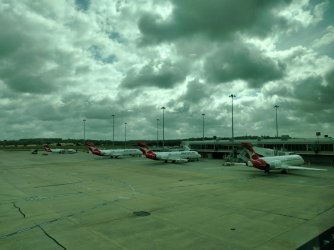 After an uneventful flight, we landed at Hobart International Airport and got ourselves organised for the Great Campervan Expedition (GCE).