Joined

Mar 26, 2017
Messages

741
Qantas

Platinum
Virgin

Gold
Flights
I'm taking a break at the moment, between jobs to try and get all the things done around the house that have been put off over the past five years, which was planned a couple of months' ago. And then of course there is that virus thingie and the stay at home - well timed. So my thoughts turned to a massive trip my parents undertook with me and my two younger brothers in 1972. Mum and Dad put together a series of four photo albums of the trip, and when I was up at their place in Hervey Bay last year, I brought those albums back home and have been working through them, scanning them to make up replicas for me and the brothers. So a good time to create a trip report I thought. What about the painting said Mrs K? I assured her the list of jobs would get done as well.
This will be a series of posts as I work through the scans and pick out the best photos that recreate the trip, bring out the 70's vibe and of course, show me in the best light - excuse my fashion choices though, it was the 70's after all.
But the background to the trip. My parents (Father K and Mother K) were primary school teachers in Melbourne, Victoria, and in 1970 they decided to do something big in terms of travel. We had always travelled a lot on road trips, camping etc. Most school holidays were spent on my grandparent's farm in the Mallee area in Victoria, which was a 4-5 hour trip by road. Dad was coming up to 15 years of teaching in 1972 and would get 4 1/2 months Long Service Leave, coupled with the Christmas break would give six months. Mum and Dad started planning a trip on the kitchen table, which at the time I didn't take much interest in. Something about the UK and Europe as mentioned, and doing a road trip. Lots of writing letters to confirm bookings, international bank transfers which were something novel. The plan was to depart Australia in July 1972 and return in Feb 1973 so we could start school. The eventual plan was:
Travel from Melbourne to the UK by ship - which was the cheapest option with the Chandris Line, going via Sydney, Wellington, Tahiti, Panama Canal, Curacao, The Azores and into Southampton
Pick up the Motorhome from the rental company (who picked us up in Southampton and drove us to their base in London) , and prepare for the next 4 1/2 months
Set off on the road, looping around the UK, hop across to Norway on the ferry, zig zag down through Norway, Sweden, Denmark, Northern Germany, cutting through the Netherlands, Belgium, back through southern Germany, Switzerland, Austria and into Northern Italy, down through the old Yugoslavia, into Greece,across to southern Italy on the ferry, up through Italy, across southern France into Spain, down to the bottom of Spain and then across to Morocco, a loop through the Atlas mountains to Fez and Meknes, across to the coast and run back up to Tangiers, back across to Spain, through Portugal to Lisbon, ferry back to the UK and into London
A couple of weeks in London, including a few days in Paris, and then fly to Singapore on British Caledonian airlines for a week
Then fly down to Perth for a couple of days, the Indian Pacific across to Port Augusta, down to Adelaide, and then the Overlander back to Melbourne
That meant 4 1/2 months in a motorhome where we had to go to bed in order, get up in order as space was so tight. Thinking back on it, I don't how they survived - I would have killed us as kids. But Mum & Dad are still married after 63 years and going strong, so it must have been 'character building'.
But first, what the trip looked like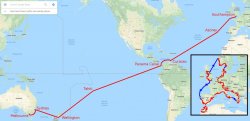 Next post will be the ocean voyage