Joined

May 24, 2011
Messages

1,830
Points

695
Qantas

Platinum
Virgin

Red
With a belief that there was no chance of overseas travel this year in last October we decided Tassie was as far over a sea as we would most likely get. We also decided it would be a campervan holiday, our first.
It's four years since we visited Hobart. It was the starting point for our cruise to Antarctica. It's 41 years since I saw anything other than Hobart.
QF had a well timed direct flight from BNE but only connecting flights home. At the time Sydney was a COVID mess so we chose a Melbourne connection… $414 each return in Y. 10 nights.
Apart from the 2017 visit we'd also been to Hobart for Dark mof_ a couple of years earlier so we decided Hobart would not get a visit this time. My must do - Fat Pig Farm for a Long Lunch. Our trip was planned around our 19 October booking for Easter Saturday lunch.
BigAl is a master planner and with FPF booked set to work on the itinerary. We chose anti-clockwise as most people travel clockwise. We wanted to see Freycinet, walk Cradle Mountain, cruise the Gordon River and I also wanted to see Lake Pedder.
Initially we were going to book a Cruisin' Sandpiper as the fixed bed appealed to us. It was also only 6.2m long. After watching a lot of YouTube videos we wondered if it would be a bit cramped inside if the weather turned bad.
The alternative is the Euro tourer operated by Apollo, Maui and Britz. It's 7.1m, nearly a metre longer, but has a dining area in the back that you convert to a bed each night.
It finally came down to price. The Sandpiper jumped a bit and I found I could get a 10% discount with Apollo through RACQ. With the discount it was $1401.75 for 11 days. To that we added a gas bottle refill, camping chairs and table and 2x toilet capsule 'stuff'. When we picked up the van we added 'drop and go' ($75) and windscreen and tyre insurance ($77). With some fancy accounting we ended up paying $8 for the insurance as he made the gas, camping chairs/table and toilet stuff 'free'. $1484.75. We only paid the 2.8% Amex surcharge on the extra $83.
We started researching campgrounds and 7.1m precluded us from quite a few free camp spots. We were also concerned about site availability considering the Tassie 'rush' that was just beginning. We decided to pre-book sites at every stop and also decided on powered sites so that we could use all the features we had access to in the camper. Paid campgrounds also gave us access to showers and toilets because even though we had an equipped bathroom, we wanted it for 'on the go/at night' use and nothing else.
After much discussion, mainly around getting to and staying near Lake Pedder, we ended up with -
Coles Bay - two nights BIG4 Iluka on Freycinet Holiday Park
Launceston - one night BIG4 Launceston Holiday Park
Cradle Mountain - two nights Discovery Cradle Mountain Holiday & Caravan Park
Strahan - two nights BIG4 Strahan Holiday Retreat
Strathgordon - one night Lake Pedder Wilderness Lodge, our only night not in the van
Cygnet - one night Cygnet Caravan Park
Bruny Island, Adventure Bay - one night Captain Cook Holiday Park
@kookaburra75
was going to be in Tassie at the same time as us, he and MrsKooka in a Cruisin' Sandpiper. And of Course
@RooFlyer
is a Tasmanian east coaster.
With FPF and campsites booked we then also booked our Gordon River Cruise. Two are offered - Gordon River Cruises, owned by RACT and a local family owned company World Heritage Cruises. Gordon River Cruises boat is smaller and leaves earlier. They also offer a 10%discount to auto club members. We couldn't see the value in the all inclusive 'upper deck'. Our total for the cruise was $315 after discount.
Our flights kept changing a little bit but not enough to concern us. That was until our BNE-HBA flight was moved to late afternoon, too late to pick our camper up and get to Coles Bay. I called QF and asked to cancel that leg of the trip. Full refund was back on my card within seven days. We booked the early direct JQ flight and added the bundle that got us SCs, points, bags, seat selection and $15 f&b credit.
As the COVID situation worsened we decided Melbourne wasn't a good connection and when I went looking for a Sydney alternative QF had reinstated direct HBA-BNE flights so I changed to that, online, for the grand cost of $19.
Even two weeks out I think we were both unsure we would be going bubbling up in Brisbane with a doctor getting infected over the other side of the river. Keep it over there we hoped.
The weather forecast was also improving and we'd taken most of our heavy wet and cold weather gear out. Spray jackets replaced the gortex.
Departure morning came and off we headed to the airport before sunrise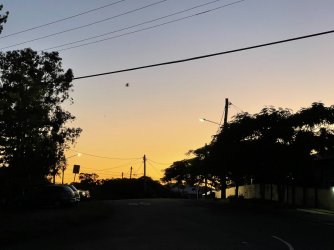 JQ bag drop machines are rubbish. Lots of confused people stopped at the machines requiring assistance.
The J lounge was quite busy considering the time of day. Everyone was observing the mask edict unless eating or drinking.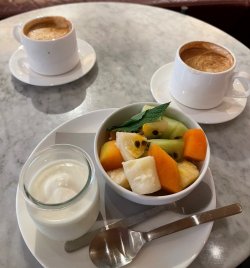 We boarded on time but then sat at the gate as they sorted a technical issue out. We left 25 minutes late. The flight was pretty full. We had a full row but in front and behind there were spare seats. Masks worn by pretty much everyone except a bloke across from us who clearly thought the rule didn't apply to him. It was under his chin most of the time.
Last edited: