Continuing the exploration of things different.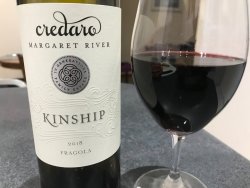 I look this up in Robinson
et al.
'Wine Grapes'. Hmmm - no direct listing, so look in the index for a synonym. Ah-ha: Isabella.
'Once widely planted, old American variety now found mostly in Brazil and India.' is the summary. Whoa!
Apparently, it tolerates tropical and semi-tropical conditions.
A read shows a complicated - and somewhat disputed - origin and parentage (not uncommon in wine grape varieties). It is widely grown in Brazil (as Isabel), Moldova and Ukraine. In India it is used mainly for juice.
My first question is: Is it really Isabella/Isabel/Fragola? Robinson says the 'wines are pale, more like a rose...'
Anyway, whatever, it was pleasant enough. Moderately fragrant on the nose, texturally quite rich and smooth, but fairly short on the palate.
I had it with some roast chicken, which was fine but I reckon it's a lunch charcuterie and cheese plate job.
Bottom line: inoffensive, interesting enough and worth a try at $27 IMHO.