Joined

Jul 22, 2008
Messages

6,087
Points

980
The trip report dates to travel in May 2019, but starts back in 2014. I'm going to be slow and steady writing it so I can match up the photos with the story, bare with me, And a warning, there will be lots of trains.
In 2014 the Union Pacific Railroad (UP) in Omaha Nebraska decided it would celebrate the 150 years of the ramming of the golden spike as the last spike to connect the transcontinental railroad (you've all seen the photo, two locomotives nose to nose with attendees gathered and one worker pouring bubbly from one train to the other). To do this UP repatriated a locomotive it had donated to a museum in Pomona California in 1962 and rebuilt it. The locomotive is the 4000 class "Big Boy" no 4014 known as the largest steam locomotive ever built at 570 tonnes.
Union Pacific 4014 - Wikipedia
So in 2014 the UP announced it would rebuild 4014 and even then stated they would haul a train from Cheyenne Wyoming to Ogden Utah and be there May 9th 2019. I made a decision I need to be there as well.
My own trip started a 4am on April 30, so I could get to Cheyenne in time to see it depart on the Great Race to Ogden.
Me waiting for my 4am pick up at home, then QF Sydney Brisbane in Y and then PE to LAX on a Dreamliner.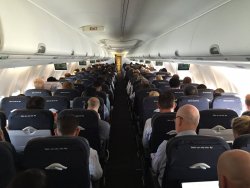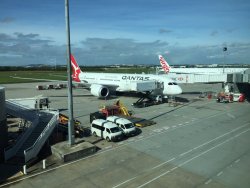 Last edited: