Booking made with the $450 travel credit that I'm not expecting to get back.
I have an Amex travel credit booking for 27 April and I've contacted Amex by email. I received this message yesterday: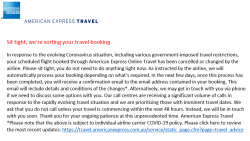 I'm unsure whether it's a response to my email or a general advisory. I'll give it another week or so and phone them if nothing happens.
Under the current circumstances I would expect a return of the credit. Time will tell.