My first TR on AFF I believe. Here goes...
SQ238 MEL-SIN, 6th FEB 2007
Seat - 36C (but moved to a randomly empty row)
Aircraft - 773
ETD - 1100
This flight had extremely low loads. It was low season for travels out of Australia. Might be also because there was an accident which caused a huge traffic jam on Tulla freeway and many people had not planned for a delay. Thankfully my taxi driver knew of an alternative route to the airport. Rocked up to the emptiest check in counter for an SQ flight I've ever encountered. I was seated in an emergency exit row seat but had the opportunity to move to an empty row once onboard. I swear the LSS was more excited than I was in securing said empty row, "Sir there are 2 empty rows at the back for you to choose from. But quick quick quick!" ROFL. I was also allowed to hold on to my original seat at row 36 for quick disembarkation.
Some changes I noted on SQ Y since my last experience in Sept 2006:
- Replacement of stylised 'E' logo of Economy Class plastic ware with SQ's corporate motif
- Stylised 'E' replaced by plain 'Economy Class' font on menu cards
- SQ check in no longer at the eastern end of MEL T2 (that corner is now dominated by QF), but in rows 49-51 (somewhere in the middle of the terminal)
- Merged Raffles Class tag with orange *A priority baggage tag - this has been happening for a while I believe
Watched Marie Antoinette on the IFE - very interesting to observe the fashion and protocols of the French court. But otherwise it was a surprisingly pointless movie.
It was yet another comfy and high quality MEL-SIN run in Economy class. Would be interested to see how Jetstar Star Class matches up in the Australia-Asia runs later in the year.
Menu for this flight:
Lunch
APPETISER
Ham with creamy potato salad
MAIN COURSES
Pan roasted chicken with onion jam and natural jus, spinach puree and roasted potato
or
Thai style fish souffle served with selected vegetables and steamed rice
CHEESE
Cheese and crackers
DESSERT
Ice cream
FROM THE BAKERY
Roll and butter
HOT BEVERAGES
Coffee - Tea
Refreshment
LIGHT BITES
Chicken and leek pie
or
Quiche Lorraine
Eggs with bacon and onions baked in pastry shell
DESSERT
Snack bar
HOT BEVERAGES
Coffee - Tea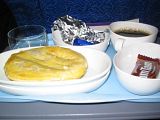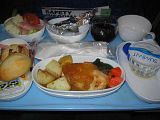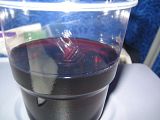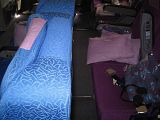 Last edited: