Joined

Mar 3, 2003
Posts

185
Qantas

Platinum
Despite the claims from some on this thread to the contrary there are studies that show that Pfizer and Moderna outlast AZ in the real world.
Perhaps you could provide some citations for those studies. And do they address surface antibody vs longer term T-cell protection?
For the benefit of everyone, here's a list of the studies on heterologous prime boosting (aka mixing vaccines). These studies suggest that heterologous dosing is as, or potentially more, effective than homologous dosing. None of the studies identified any safety signals. Mixing AZ + Pfizer (or AZ + Moderna) is a highly effective and protective approach, and on the basis of the British Columbia study below, better than Pfizer alone and on par with Moderna alone.
Most recently, from British Columbia using real world data (Skowronski DM, Setayeshgar S, Zou M et al. Two-dose vaccine effectiveness against SARS-CoV-2 infection and hospitalization, including Delta variant: a test-negative design in British Columbia, Canada (
BC real world study
)) in a sample size of 246,565 people showed that AZ+mRNA was the most effective combination in relation to all and Delta hospitalisations, and on par with Pfizer for all and Delta infections, and a percent or two behind Moderna (which had the best outcomes on all measures) for all and Delta infections: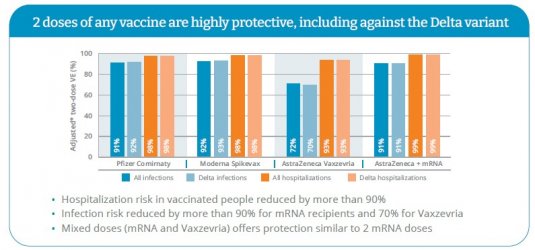 To virtually identical effect from Quebec:
Efficacité de deux doses de vaccin contre la COVID-19 chez les adultes québécois vivant dans la communauté | INSPQ
.
And these are the prior studies on heterologous prime boosting.
Study
Population
Product
Schedule
Primary Endpoint
Results
(Borobia, Carcas et al. 2021)
676 COVID naïve people 18-60 years of age randomised to two vaccine doses or a single vaccine dose from 5 hospitals in Spain
ChAdOx1
BNT162b2
ChAdOx1 (day 0)
BNT162b2 (8-12 weeks)
Antibody levels at 14 days post second dose
37-fold increase in Binding Antibody Units per mL after second dose compared to single dose.
(Dimeglio, Herin et al. 2021)
PREPRINT
66 HCW in France given the choice of homologous or heterologous vaccination with ChAdOx1 or BNT162b2
ChAdOx1
BNT162b2
Not recorded but either
ChAdOx1/ChAdOx1
BNT162b2/BNT162b2
ChAdOx1/BNT162b2
Neutralising antibody titres on live virus assay 1 month after vaccination
ChAdOx1/BNT162b2 produced a higher proportion of subjects with >2 fold increase in antibody titres 1 month after vaccination (95.4%) compared to either homologous dose, ChAdOx1 63.6% and BNT162b2 68.2% respectively
(Hammerschmidt, Bosnjak et al. 2021)
Plasma from 85 individuals who had either received ChAdOx1/ChAdOx1 or ChAdOx1/BNT162b2
ChAdOx1
BNT162b2
Not recorded
Neutralising antibody titre against Delta strain at a mean of 17 days after second vaccine dose
Heterologous dosing resulted in a significantly higher neutralising titre than homologous ChAdOx1 dosing, but similar to homologous BNT162b2 dosing
(Hillus, Schwarz et al. 2021)
340 HCW vaccinated at a university hospital in Germany
ChAdOx1
BNT162b2
BNT162b2/BNT162b2 day 0 and 21
ChAdOx1/BNT162b2 day 0 and Week 8-12
IgG seroconversion and neutralising antibodies is COVID S1 protein three weeks after second dose
Neutralising antibodies were present in 100% of homologous and 99% of heterologous dose recipients
(Liu, Shaw et al. 2021)
Randomised phase 2 trial in 830 COVID naïve patients >50 years of age in UK
ChAdOx1
BNT162b2
ChAdOx1/ChAdOx1
ChAdOx1/BNT162b2
BNT162b2/ChAdOx1
BNT162b2/BTN162b2
All Day 0 and Day 28
Serum anti-spike IgG concentration 28 days after second dose
ChAdOx1/BNT162b2 was statistically superior to ChAdOx1/ChAdOx1. The two BNT162b2/ChAdOx1 was inferior to BNT162b2/BNT162b2.
(Tenbusch, Schumacher et al. 2021)
Plasma from 480 individuals who had received either homologous or heterologous vaccination
ChAdOx1
BNT162b2
ChAdOx1/ChAdOx1
ChAdOx1/BNT162b2
BNT162b2/BTN162b2
Interval not recorded
Neutralising antibodies
Heterologous ChAdOx1/BNT162b2 produced higher antibody levels than either homologous schedule, and similar to homologous BNT162b2 (at a shorter interval of 21 days)
(Normark, Vikstrom et al. 2021)
Correspondence regarding analysis of plasma from 88 HCW who had received either homologous or heterologous vaccination recruited from ongoing trial.
ChAdOx1
mRNA-1273
ChAdOx1/ChAdOx1
ChAdOx1/mRNA-1273
Day 0 and week 9-12.
Neutralising antibodies on live virus assay 1 month after second dose
Data not numerically presented. Both homologous and heterologous schedules induced neutralising antibodies but the heterologous dose had higher levels. ChAdOx1/ChAdOx1 did not produce neutralising antibodies against Beta strain, while the heterologous schedule did
(Yorsaeng, Vichaiwattana et al. 2021)
PREPRINT
234 HCW who opportunistically received homologous or heterologous doses depending on vaccine availability in Thailand
ChAdOx1
Coronavac
ChAdOx1/ChAdOx1 (n=80)
Day 0 and Week 10
Coronavac/Coronavac (n=80)
Day 0 and Week 3
Coronavac/ChAdOx1 (n=54)
Day 0 and 4 weeks
Serum anti-spike antibodies compared to COVID convalescent serum
The GMT of antibodies after Coronavac/Coronavac was 96.4U/mL and not not significantly different from convalescent serum.
The GMT of antibodies after heterologous dosing was 797U/mL and similar to 2 doses of ChAdOx1 (818U/mL)