Joined

Mar 20, 2006
Messages

1,640
So after 14 years on AFF, I thought it was time to write my first trip report.
Tomorrow (7/8/2020), we (the wife and son) pick up our new canal boat. We hired a canal boat back in October 2018, and cruised the Bridgewater Canal for four days and really enjoyed. We have been walking the canal towpaths near us during lockdown and decided that as it was likely that our 3 week cruise to Iceland and Greenland was going to be cancelled, we should organise our own cruise. So the hunt started for a narrow boat commenced. We didn't want a wide beam (.... yet, need to cruise the narrow canals first), didn't want longer than 57' as some canal locks can't fit any longer than that in. As we intended to leisure cruise rather then be residential, we settled on looking for something below 40' as easier to handle, easier to turn, don't get wet in leaky locks, and most importantly ….. cheaper.
So the hunt started, but narrow boats were selling within hours of listing, or where very expensive as they had berths near London. That added, we didn't want to have to cruise a boat all the way from down south to the north. Eventually we found a boat that had been advertised on one of the less well known pages, and it was north of Bradford (we are based in Manchester). So after an initial visit, we arranged to go back and take it out for a test
drive
cruise. Needless to say it all came back to us and we loved it. So a price was agreed subject to a survey.
Two weeks ago, the boat was craned out of the canal, surveyed, some minor repairs and the hull blackened. After the work was completed the boat was craned back into canal, and we cruised it back to the sellers marina mooring.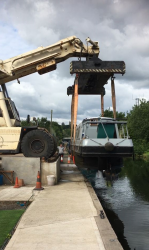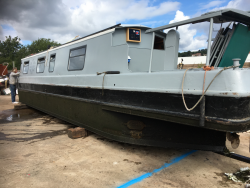 So tomorrow we pick up our 40' "caravan" on water and head towards the Bingley Five Rise Locks
www.penninewaterways.co.uk/ll/bingleyfiverise.htm