Joined

Jul 13, 2006
Messages

8,047
seems odd that they had plans to turn MCEC into a ICU facility. The US cities that had the Army Corps of Engineers turn convention centres into medical facilities were for non covid patients in order to get them out of hospitals and more ICU capacity into hospitals. The makeshift covid facilities in the US were converted from hotels, since it was more effective to turn hotel rooms into single patient isolation rooms then to get the needed air circulation measures into large expo halls.
Well firstly remember that it was not actually done. So they went with mainly hospitals in the end.
Secondly it was considered early on when much was still unknown about the virus. ie How many would be infected, how many hospitalised, how many in ICU etc...
So in March for example in they were very fearful that that just would not have anywhere near enough ICU and ventilators. These were the numbers that they were thinking about and planning for (but which have not eventuated):
"Then there's 20 per cent who will do worse. And they are the numbers that we are preparing for in our hospital system."

Here's what those numbers could look like under various infection rates across the population. We don't yet know what the infection rate will be, but NSW Health is preparing for the virus to infect 20 per cent of the state while Queensland Health is readying for 25 per cent this winte
r.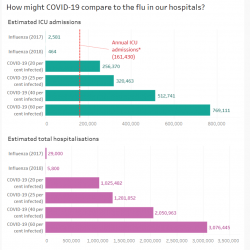 So without the surge they did not require the large but less desirable option at the Exhibition Buildings.
What was done was recommissioning hospitals that had ceased operating ( as mentioned above), accelerating other hospital wards that were nearing completion such as at Casey and Bendigo plus re purposing wards at the existing major hospitals. A pop up facility was added at Monash Clayton.
Longer term new wards were to be build fora number of the major hospitals. I don;t know the progess on those.
Thirdly both approaches were used.
NHS Nightingale Hospitals - Wikipedia
were for CV19 patients.
In the USA in NY the Javits Centre one of the Corps built facilities was built for general patients, but then was changed to be for CV19 patients. Lightly used though.
The hospital ship , the Comfort, that was brought in was for general patients and was lightly used. They changed it to be also for CV19, but was lightly used. I believe part of the problem was logistics with ambulances.
The Navy hospital ship USNS Comfort and the Defense Department-run alternate care facility at the Jacob K. Javits Convention Center, both in New York City, are now taking patients with COVID-19,
Spain also used Exhibition Buildings to treat CV19 patients. The IFEMA exhibition center was built with a capacity of 3000, though in the end only treated 4000 patients in total.
Last edited: