Joined

Jun 20, 2002
Messages

17,991
Points

1,570
Qantas

Gold
Virgin

Platinum
Airbus agrees Chinese plane plant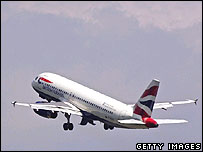 England's football team jetted off to the World Cup aboard an A320



European aerospace firm Airbus has agreed to build its A320 passenger plane in the Chinese city of Tianjin.

Airbus is looking to increase its share of the fast-growing domestic Chinese aircraft market.

Airbus wants the plant operational in 2008, and aims to produce four of the single-aisle A320s per month from 2011.

Building a plant in China may allow Airbus to gain an advantage over its biggest rival and local market leader, US plane firm Boeing, analysts said.

Expansion plans

Andrew Miller, chief executive of the Centre for Asia Pacific Aviation, explained that "the growth in the Chinese market for aviation has caused a big increase in the number of orders for narrow-bodied jet aircraft". "So to be the first to manufacture the aircraft close to the country may give them a lead in selling it in the local market," he continued.

Airbus earlier said that it wants to boost Chinese sales to $120m per year (£95m; 65m euros) by 2010, taking advantage of an expected increase in demand for slimmer planes that serve domestic routes in this fast-growing Asian economy.

The company, which has a small Chinese engineering operation and already buys parts from local suppliers, said it chose the north-eastern city of Tianjin because it was close to a seaport and because of its labour and industrial capabilities.

Airbus assembles planes in Toulouse, France and Hamburg, Germany, with other production facilities in Europe, including those run by BAE Systems in the UK.

BAE, which owns 20% of the company, has recently announced that it is selling its stake.

Airbus's Chinese operation may create as many as 600 jobs, analysts said.
Last edited by a moderator: