Joined

Jun 23, 2016
Messages

1,436
Solutions

8
Points

575
Qantas

Gold
Virgin

Gold
Hi all
Someone posted on FlyerTalk about using VA points on Tiger operated services and little is documented in the way of the process but also the value. I did some digging and calculations which I've shared below so if you're not interested then stop reading now!
In short
154 Velocity points per $
can be redeemed on the Tiger Air website when booking tiger flights with a minimum of 3100 points (~$20) needed to redeem. Unlike JQ/QF there isn't any award chart and redemptions don't come with baggage unless you add it during the booking (upping the cost and number of points needed). A $69 Tiger Air flight could be had for 10626 velocity points (and the points can be used to cover taxes, baggage, seat selection, meals etc) and it's also possible to use part points for payment by only redeeming say 3100 points for $20 off the price and pay the remaining amount on card.
The main question from FlyerTalk though was is it better value then using Velocity points for Virgin Australia operated rewards. A Melbourne to Sydney redemption will set you back 11700 points (including taxes) on a Virgin Australia flight whereas the cheapest tiger flight in the next 12 months was $69 or 10626 points (only 1074 velocity points cheaper than the VA flight).
Below I've outlined all the direct Tiger Routes and compared them to direct Virgin Australia redemption flights. To make things easier I've used the number of points that VA charges with all the taxes included as the Tiger website also allows payment of taxes with points.
Column H outlines at what price the Tiger would need to be at (or lower) to be a cheaper redemption than the Virgin flight (obviously space available). The data for cheapest Tiger flights was taken from Google Flights with no preference to days of week/month so, in theory, the savings could be a lot worse but I'm using a best-case scenario.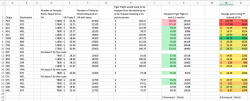 Finally, the far right shows the results... For the two Perth routes, you'd actually be spending more points redeeming on a Tiger flight than a Virgin one and in most cases, you'd be saving ~2500 points. The Brisbane-Darwin Route provides the biggest saving of 9000 points assuming you can get the Tiger flight for $99 but there are also a few downsides.
Unlike Jetstar awards with Qantas points, no luggage on Tiger redemptions is included (unless you add it, using more points and the price isn't fixed. For saving ~2500 points you'd lose an onboard snack, drinks, baggage allowance, entertainment, wifi (on some aircraft), a 23kg baggage allowance and in the case of Gold/Platinum cardholders - Lounge access.
If it could be booked via the Virgin website and prices were always cheaper (on a fixed award chart) then I'd consider booking Tiger myself, but for the meantime, I'll happily pay an extra 2000 points for all the extra benefits that Virgin gives.
Have you used points on Tiger? (or even considered it)
Would you redeem a flight on Tiger if it was 2000-3000 points cheaper?
and do you think Tiger should move to an award chart just like Jetstar has?