Announced after today's National Cabinet.
The Oz on-line
: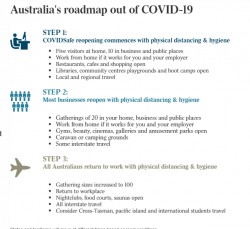 Asked about the coronavirus cluster at Melbourne abattoir Cedar Meats, Scott Morrison warns that outbreaks are not a reason to stall the reopening of the economy.

"Outbreaks are not a reason to slow things down," the Prime Minister says. "Outbreaks are going to happen. All Premiers and chief ministers understand that and so it's how you respond to them."

Mr Morrison again reminds Australians to download the COVIDSafe app to assist health authorities with contact tracing.

That's why I think some of these automated tools are very helpful to the Premiers and health ministers in those jurisdictions. Each one of these is going to be tough. It's not a reason to slow things down.
What do people think about the staging?