Well, we've finally caught up with the big league on at least one metric, and not far off on another.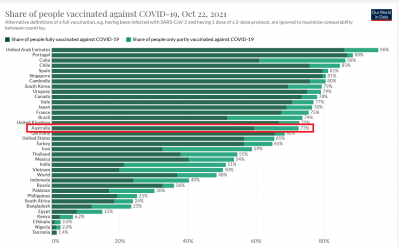 Australia is now on par with the UK's first dose ratio, and only a couple of percent off from being mid-pack of the North American and European countries that we've been playing catch up to. Our second dose coverage is a little behind, the UK has a 6% delta between First and Second and we have a 13% delta, but given our late start we are vaccinating at a significantly higher rate than many of the countries we are being compared to, so if we maintain the rate for a while longer we will see Australia firmly in the upper quadrant.
Hopefully the push in QLD to increase vaccination rate will pick up some of the tail off in NSW given they are reaching the tail end of their (initial, at least) vaccination drive.