Joined

Dec 31, 2011
Messages

6,722
Solutions

5
Points

1,125
Qantas

Platinum
Virgin

Red
I'm flying on QF9 PER-LHR next week in Y as a WP. At the time off booking (several months ago) I selected 41D. I'm an aisle kinda guy. I figure a centre aisle is my best option as if there is someone in the middle seat there is a good chance they'll be travelling with someone in the other aisle seat and bother their travel companion rather than me to get out. Worst case its only a 50% chance and only one person. Selecting a window based aisle seats means up to two people with need to get out.
When I sleected 41D both 41E and 41F were empty. So a nice empty row. A few days ago I logged on and noticed the seat next to me 41E was taken and 41F empty. Initially I thought perhaps a WP shadow. Logging on to EF I see this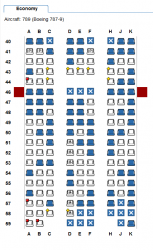 Has someone really decided they want 41E and to sit in a middle seat?! Seems a bit odd.
Now the dilemma of what do I do? I'm expecting a light load in Y due to QF needing to drop numbers to avoid Iran/Iraq airspace. Do I wait it out? Hope my J upgrades comes through? Row 43 in front of the toilets doesn't seem very desirable. I could move to 53 but I like the mini cabin.
I could risk 42C and hope I get the to myself. Or do I play it safe and go 42F knowing that 42E is likely to remain empty, but then no chance of a row of 3 to myself. I wonder if a call to QF to see if they are able to block a couple of seats might be an option given we know the Y cabin won't be full?
Yes, tackling the big issues today....but at least folkds on AFF understand this