Joined

Nov 12, 2012
Messages

18,988
Solutions

2
Points

3,125
Qantas

Platinum
This OneWorld RTW is going to be an odd one. When people ask me where I'm going, I've found myself saying 'nowhere in particular'. Its going to be a bit of a hodge-podge of some favourites re-visited (New York, Paris, Istanbul), some quick stops to get some history that I have been meaning to see for ages (Mexico City, Himeji, near Osaka, Strasbourg & Rhine valley of France), visiting relatives (French Alps), some new places (Bruges, Malta, Geneva, Taipei -
maybe -
and the Huntsville, Alabama rocket museum). A bit of lounge hopping - looking forward to a couple I haven't been to, such as new-ish AY J lounge in HEL, TK at the new IST airport, QR in SIN and First Lounges in NRT (JL) and SIN (QF).
Inspiration hat-tips to
@amaroo
for New York and the temple at Mexico City,
@Jacques Vert
for Strasbourg, Geneva and places in between,
@JohnM
(and others) for Huntsville and
@get me outta here
and
@drron
for Big Apple Greeter; other tips from
@esseeeayeenn
,
@gojun
and many others on AFF.
Starting off with a night in Brisvegas to see my nephew & niece and their kids; HBA-MEL-BNE-SYD is on a separate ticket.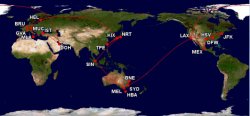 The OW RTW is QF, AA, QR, AY and JL, all in business, with IST-MLA on TK and MLA-MUC-BRU on LH, also in J. 44,800 miles, 72,000 km. Hotels are a mix too - some Accor, especially in France and a bunch from Booking.com. I have a night in the TWA hotel at JFK and the Oryx Hotel air side at DOH, both of which were expensive, but very convenient for early morning flights.
its about 5 weeks until I get to Japan, and Taipei a few days later, so I will be looking at Corona Virus progress there over the coming weeks. I'm prepared to skip Taipei, but avoiding Japan would be very inconvenient. I have a heap of hand santitiser and some good masks, if it comes to that.
It starts Wednesday. But one of the great things will be on Tuesday, I'll be having lunch with my Uni supervisors and I'll be dumping a complete second/third draft of my thesis on them for their reading enjoyment!
Yeah, I know hard copy is a bit quaint, but this is for the more 'senior' of my supervisors who would be printing it out anyway ... I'm not sure if they'll see the pleasure in my leaving it behind the same way as I do but they have got used to my gallivanting about the place. When I get back, it'll be corrections, additions etc as they suggest
What they don't know yet is that 10 days after I get back, I'm off on a trip to Romania, Moldova, Translistria and Ukraine
First stop, Hobart Airport which, as usual will probably be an inauspicious start.