Joined

Mar 31, 2011
Messages

1,660
SYD-AKL, "dinner" flight on 737-800:
The flight was already delayed when we boarded and as ever so often, Qantas totally messed up any attempt for priority boarding and we all got stuck behind the great unwashed on the sweltering hot and humid aerobridge in Sydney. By the time we got on board, stress levels were peaking already. The chaos continued and passengers who hadn't brought the right immigration papers on one side, terrible thunderstorms on the other and generally quite chaotic crew did the rest and we finally took off almost 2 hours delayed. None of the passengers were particularly happy about all this though kudos to the crew who kept filling up the champers while we were waiting around on the ground.
Once in the air, meal and then drink orders were taken which is funny- still the good old service flow on the smaller Jetconnect planes, while you rarely get a pre-meal drink order on the bigger ones these days. Was very happy with my excellent bloody Mary which was followed by the following menu: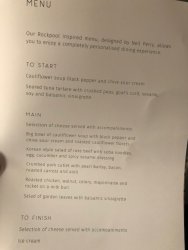 I selected the soups as a starter as I cannot have fish and then the crumbed pork as the main.
The soup was served after a fair wait and unfortunately was served rather cold. Still a nice taste but would have preferred it properly heated up: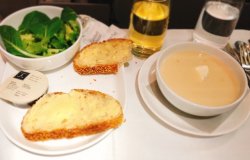 I had a glass of the Vasse Felix Chardonnay with it which was the perfect match. However, for the main, I then decided to move back to champagne which I stuck to until landing. I was delighted to see that the main was indeed a proper 'main' which is a rare feat on Qantas trans-Tasman business class: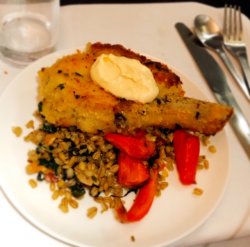 I had crumbed cutlets of various varieties on previous flights- both short haul and proper international long haul and it tasted like these always taste which is a good thing in my mind and everyone who ever had one of these can imagine the taste. Cutting off the bone on the wobbly little tray table is a bit tricky but the meat it juicy with a fair fat content which actually helps on an airplane, as does the coating of crumbs.
I actually also liked the sides, the barley and carrots added just the right amount of healthiness to the meal without making it non-enjoyable. Needless to say that the big dollop of aioli was the blowout in this respect but it also tasted just sooooo good. All in all a very nice meal which I just followed up with the tiny ridiculous dumped-in-the-pack on your plate Maggie Beer vanilla ice cream. Looking at the various E numbers, colours and aromas in it just proved once again that there's nothing special about that MB nonsense but they rather simply come off a conveyor belt and straight onto a tray table near you. I really wish Qantas let go of this non-sense and introduced proper deserts like Air NZ does.
Last edited: