I know a lot of people here have criticised the Virgin Australia website, but has anyone noticed just how terrible Rex's website is?
It looks like it's from about 2005... because it is! (The copyright notice even says so.)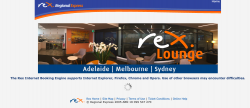 I guess it (just) gets the job done, so they haven't thought it necessary to update the website with a new one. Much like their fleet of planes.