Joined

Jul 4, 2002
Messages

28,260
Solutions

1
Points

4,040
You are very good at tracking down articles
@RAM
but not nearly as good at understanding the context of those articles.The CDC article was based on the delta outbreak in Provincetown,Mass.I have posted that elsehere an account of that outbreak.here though is an article on that outbreak and the CDC report.
A new CDC report on Friday that fully vaccinated Americans can contract the Indian 'Delta' Covid variant more easily but are at a very low risk of severe disease, hospitalization or death.
www.dailymail.co.uk
If you read that article it has this graph.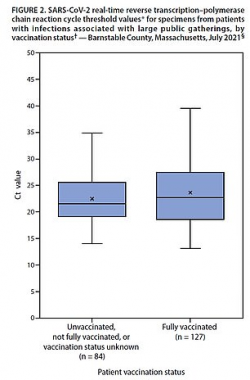 .
Note that there are 127 vaccinated patients and 84 either unvaccinated or vaccination status unknown.now if you think a study of just over 200 people is the complete truth you are sadly quite wrong.As well the study is measuring Cycle Thresholds rather than absolute viral numbers.It depends where in the cycle the test is done.early or late testing will mean a higher Ct score which should mean less viral load and less infectious.Note the vaccinated show a trend to higher Ct scores.A higher number in the study might well mean that trend was significant
Here is another slighty less sensational report on the Provincetown outbreak and the CDC report.
In an outbreak in Provincetown, Mass., three-quarters of cases occurred in fully vaccinated people. The study's findings suggest that vaccinated people infected with delta can transmit the virus.

www.npr.org
Note this statement from the CDC in that report.
"High viral loads
suggest
an increased risk of transmission and raised concern that, unlike with other variants, vaccinated people infected with Delta can transmit the virus," Dr. Rochelle Walensky, the CDC's director, said in a statement Friday.
My bolding.Not would but suggest
Now here is another report from the CDC and delta.From this article you can download the CDC report.
The U.S. Centers for Disease Control and Prevention (CDC) has described the Delta variant of the coronavirus as being as transmissible as chickenpox and cautioned it could cause severe disease, the Washington Post said, citing an internal CDC document.
www.reuters.com
When you download the CDC report there is this statement,again my bolding.
Early evidence in health care providers that vaccination may
reduce transmission and attenuate illness (HEROES/RECOVER)
▪ Period: December 14, 2020 – April 10, 2021
▪ VE against infection was 91% (CI 76-97) among fully vaccinated; 81% (CI 64-
90) for partially vaccinated
▪ Compared to unvaccinated cases, vaccinated cases (full or partial) had:
– 40% lower mean RNA viral load (2.3 v. 3.8 copies/mL)
– shorter mean duration of detectable viral RNA (2.7 v. 8.9 days)
– lower risk of febrile symptoms (25.0% v. 63.1%)
– shorter mean duration of symptoms (10.3 v. 16.7 days)