Joined

Jul 13, 2006
Messages

6,925
Just a month ago New York had a single case - today 83,000.

Yes, we are doing things, but I think that notion that what is real today is indicative of tomorrow is plain wrong. There are two curves here - the curve of infection, and the curve of acknowledgement of the situation. ..
A month ago CV 19 was already in NY and the USA at large.
The USA failed dismally in their early testing program, and virtually all of the USA did very little to halt the spread of CV19 until quite recently.
They still have many states doing little to halt the spread.
By March 21 in the USA they had 25,000 reported cases of CV 19, but at had least 39,000 people already sick with CV 19.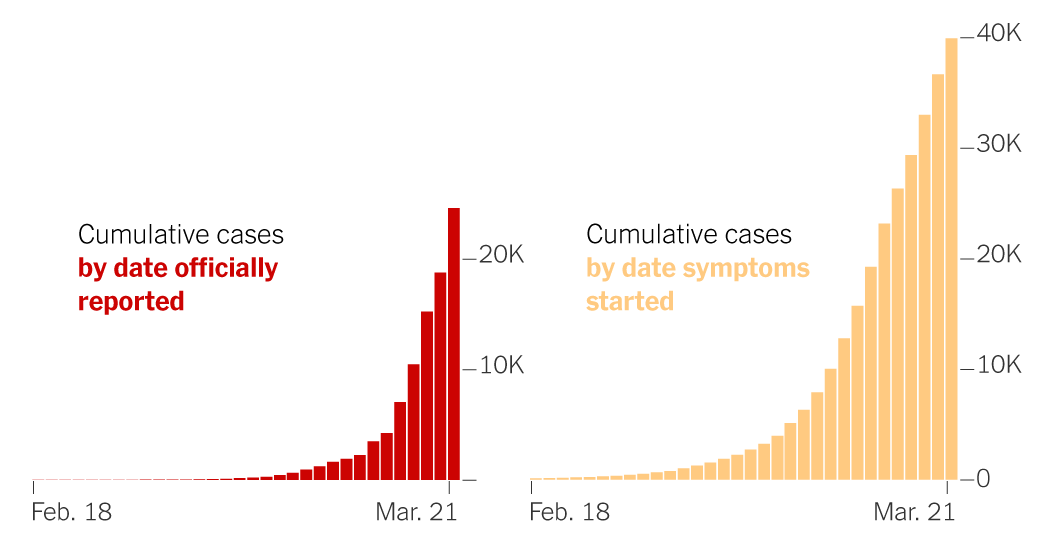 Data from the C.D.C. shows when patients who tested positive for coronavirus first started feeling symptoms, giving a clearer picture of the outbreak.
Please open your eyes to what is happening EVERYWHERE. Don't be behind that second curve....
From your quote on the situation in NY I would believe that I have opened my eyes and have considered the available data in more depth than you have.
Last edited: