Hi all - I'm hoping someone with an EF account can provide the seat map for QR137 (DOH-BCN) on 15.08.2021
I am trying to determine if this is a QSuites route
Can't search that far out yet. One more day...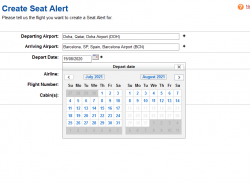 Also note, you can look at seat maps with a free EF account. I'd also expect a flight search on QR would tell you if it's Q-Suites or not. Finally, I'd be pretty surprised if the aircraft scheduled today for that sector is the one that actually flies it.