Joined

Apr 27, 2003
Posts

18,028
Qantas

LT Gold
Virgin

Gold
From Aviation Week & Space Technology.
Wiring Fixes Among Changes FAA Will Require Before MAX Can Return
Sean Broderick
August 03, 2020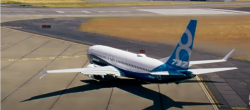 Credit: Boeing
WASHINGTON—The FAA's proposed steps for operators to clear Boeing 737 MAXs for service include separating wire bundles deemed to be noncompliant with regulations and conducting "readiness" flights to ensure the long-grounded aircraft are airworthy, a draft notice of proposed rulemaking (NPRM) made public Aug. 3 reveals.
The wire-bundle issue, discovered during regulators' comprehensive review of the MAX's design and certification, concerns horizontal stabilizer trim arm and control wiring that runs the length of the aircraft. The FAA found that the wiring needs to be separated in 12 places to meet 2007 regulatory changes put in place to prevent wiring failures from creating hazards.
The agency ordered Boeing to fix the issue on new-production MAXs and develop instructions for in-service aircraft.
Many MAX operators planned to take advantage of the ongoing grounding and make the wiring changes before returning their MAXs to revenue flying, using service instructions Boeing issued on June 10. What was not clear: whether the FAA would require operators to address the issue before the MAXs flew again or give them the flexibility of a longer window for compliance, which is typical for many airworthiness directives. The NPRM confirms that the wiring work is one of several steps that must be completed on each existing MAX before returning to revenue service.
Because Boeing made the in-service modification work package available nearly two months ago and the FAA tentatively approved its contents, the agency's wiring mandate is not expected to add time to MAX return-to-service preparation.
Updating MAX wiring, while an important regulatory compliance issue, is an ancillary change in the package of upgrades that will end what will likely be an 18-month-plus fleet grounding. The major changes are installing updated flight control computer (FCC) software that modifies the MAX's maneuvering characteristics augmentation system (MCAS); new "MAX Display System" software that gives pilots more information on anomalies; and putting pilots through new, updated training.