Until recently there had been no popular 'chain' hotels in Hobart for a while. This was addressed a year or so ago with the opening of Ibis Styles and Marriott is going to open one of its 'Luxury Collection' branded hotels in maybe a year. That's in a cracker of a location and should be a hit for those willing to pay (I question whether Hobart can sustain it, but we'll see).
Filling in the ground in between is the recently opened Crowne Plaza, which is on Liverpool Street in the CBD. I stayed a night to try it out when I was attending a family function in the city.
Its a new build, and opening has been delayed due to COVID. This pic shows only half of it - there is another wing stepped back behind the one shown.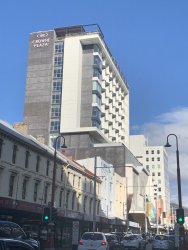 The immediate location doesn't really have much to offer. There are no notable restaurants nearby, but the waterfront isn't too far to walk and North Hobart would be a 10 minute ride.
I had my car and the first issue I had was parking. I was advised via a call from the hotel that there was no parking on site and I should park at a 'nearby' public car park, for which I'd get a discount. I naturally assumed that there would be a drop-off space outside the hotel so I could drop my bags - but no. That was annoying. The car park is about a 10-15 min walk away and luckily I only had a carry-on, but if I had a full suitcase it would have been ridiculous. I was
subsequently
told that the 'No standing' spaces outside can be used for drop-off, and they'd give me a tag, but Liverpool Street is a narrow, busy street during week days and there is nothing to indicate hotel use. Would a visitor, unfamiliar with local rules want to risk parking in a no standing zone?
Entry is via a lobby to the side of the new building and check-in is on the 4th level (ground-3rd floor is a new Myers store) (this pic Sunday morning)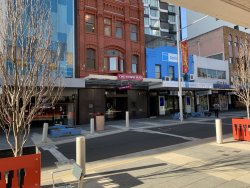 There is a club, on the 10th floor with good views of the city and Mt Wellington. Club floors on 10 and 11. I didn't have access.
I had a corner king room on level 8, the second price up from the base. Quite nice, with a
very
large bathroom in travertine and glass, with full sized bath, separate walk-in shower, separate toilet, double basin and luggage area. Annoyingly, no door on the toilet and someone standing at the basin can admire their partner on the throne via the mirror.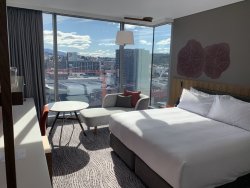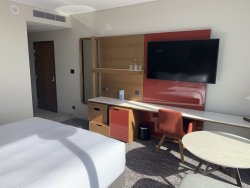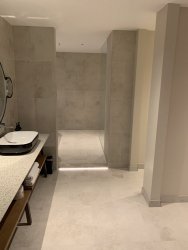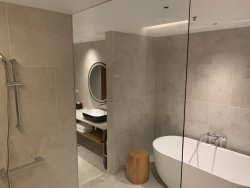 Restaurant and bar on the 4th (reception) level. A nice outside deck, with views of Mt Wellington and gas heaters and blankets available for the Tas winter.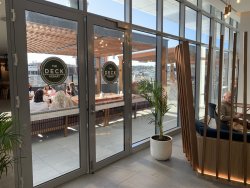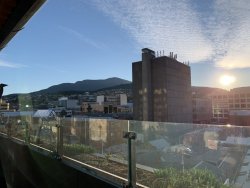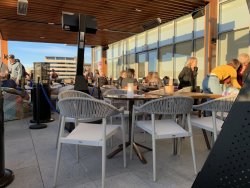 I ate out that night, but had breakfast in the restaurant. Its a covid buffet system - choose what you want & they serve.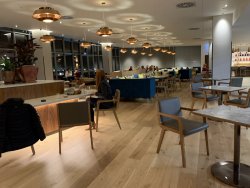 Overall: I liked it but the parking arrangements are not good. They should clearly tell people about the parking outside (were completely silent on it when they called me about parking!) and negotiate with the council to have it marked. I just called again inquiring about parking to check if they had refined things and it was still vague. They suggested I could use the 'Uni car-park if its quiet'. What is that meant to mean to a visitor?
Continued ...
Last edited: