Joined

Jun 7, 2006
Messages

9,700
Solutions

1
Points

1,825
Qantas

Platinum
It's getting a bit cold in the SW, so I had started itching for a trip N. My Initial plan was to head to Cape Leveque, north of Broome, as I had not been up that cape before and I hear good things.
Coinciding with the general time I was considering going, my elder son wanted to scope a business opportunity at Kununurra, so Kununurra went into my plans. He'll fly into KNX from PER for a couple of days and fly back out. I'll join him and his consultant as a bit of a sounding board.
So, I'm hitting the road tomorrow morning and will aim to be back home by about Thursday 8 July. I have Covid-vax #2 on Monday 12 July.
Here's the general likely route and a few of the potential stops. It's flexible except for the need to be in Kununurra by 27 June until 1 July.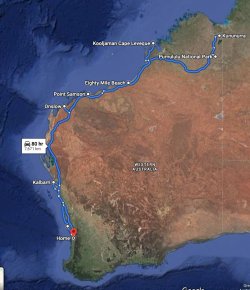 There has been quite a lot of publicity that Kalbarri is open for business after being smashed by Cyclone Seroja in April. People are being encouraged to visit and help get the town back on its feet, so I'll make there the first night's stop.
I'll see how I'm going as to whether I'll go into Purnululu (the Bungle Bungle Range – aka The Bungles). I've been there briefly before and flown over in a light aircraft and a helo, so it's not a must-do. The two campgrounds within the park are likely to be full and off-the-grid camping will be a no-go in the park, I'm sure. I'll play it by ear.
Fortuitously, The Staircase to the Moon is on at Broome next weekend. It's at about 1900h on Saturday, so I'll target that as I have not seen it before. You can brush up on it here:
Staircase to the Moon Dates
.
There will be little or no posting along the way; I'll complete the TR on return.