Joined

Jul 13, 2006
Posts

12,759
These cases were originally reported in overseas acquired numbers, but NSW routinely does genomic sequencing on all cases and as those results only became available last night, it was announced as a possible HQ case over night. They put a rush on genomic sequencing for community cases, but not for suspected overseas acquired.
The logic of this seems odd to me
As you state genomic sequencing of all cases should be done routinely.
So why would a rush be required? In the period in question there have only been 36 cases in total to be sequenced. That is roughly only 2 per day.
There have been no community cases in the period to be sequenced. So no priority cases. And even if there were, we are only talking about 2 cases to sequence per day on average.
With positive cases so low surely the lab responsible would just be sequencing positive cases as they come in, or at least once per day?
The case in question was on 5th June. Sequencing was completed not till the15th June.
Given how quickly the virus can spread why would such a delay (10 days) be deemed acceptable?
Why would a possible HQ transmission case not be investigated? I mean BBQ Man was not that long ago. HQ transmission is a well known and common occurrence, and this case in question was positive in the room next door to two positive cases which just by itself should have been a red flag for an investigation.
The virus loves proximity. Why was it not looked into earlier?
It may well be overseas acquired, but it equally it may well not be either.
Even if someone was not curious about a positive cases happening in the room next door to two other cases (and some one should of been at least in terms of it being worthy to investigate), why was what is meant to be a routine test not actually performed routinely? Why a ten day delay?
Now there may be a very valid reason why the testing was so slow. Maybe something broke down, maybe there was an error or malfunction. But I doubt that just waiting 10 days would be the norm when cases are so few. If this is indeed the norm, then it would seem to be that the process is not a good one.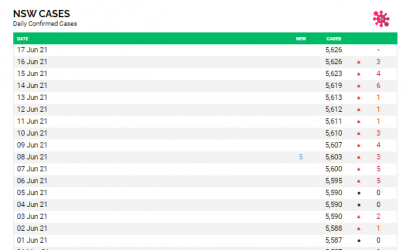 So at most that is 36 cases in total.
Last edited: