My renewal has come up (due in 2 months time) and I have been given the following options: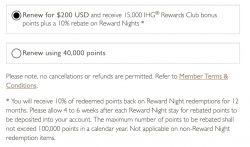 What would you pick?
I'm leaning towards the 40k points (I have about that many in my account) as I rarely book reward nights anyway and it'll save for USD$200. If I spent the money, used the bonus points and my existing points for reward stays I'd only get 5500 points back anyway.