Just because we aren't travelling much these days, no reason for the Trip Reports to stop, I reckon
Would you believe I used to run a renewable energy company - 'hot rocks' geothermal energy, to be precise. Quite an amazing time, until it got killed off by the GFC, when we couldn't get the private investment to drill the super-expensive large diameter bores to tap the energy at depth. Talking the mid 2000s; geothermal was still very new in Australia and no-one was doing it commercially, or, at first, even had any wells down. We had our tenement (covered most of Tasmania, actually) and were making giant steps in delineating a buried geothermal resource, but to learn about the industry - power plants and commercialisation especially, we had to see how it was done overseas, where there were a number of operating sites of various types of geothermal, and some other experimental 'hot rocks' sites. Also lots of global experts to tap.
(I'll keep the technical stuff to a minimum, but 'hot rocks' means you drill down abt 5km into hot granites, multiple holes. Fracture between the holes ('fraccing' - don't be alarmed, its a technical term, not an alias for the Devil
); then water down one, it flows through the fractures, flashes to steam, comes up another hole and drives a turbine; steam condenses, then down the hole again. Other types are like in Iceland & NZ where you have molten rock close to the surface and the steam comes from shallow groundwater; or like Italy & USA where there are shallow intrusive rocks and sort of a hybrid between the other two.)
To get an idea about what I'm on about, here is a geothermal well being vented at Lardarello in Tuscany, Italy. Raw steam from the ground.
So, in 2014 our chief technical guy and I headed off to see how it was done and to chat to various experts, including some who were advising us directly. This was the overall route. Because it was a trip before AFF for me, no pics of the aircraft/meals
, but we did manage to take in some sights along the way.
(We were a private company then, so we were very much spending our own money! )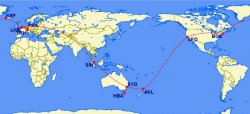 The main locations visited were:
Falmouth/Portsmouth, UK
Alsace, France
Basel, Switzerland
Rhineland, Germany
Pisa & Tuscany, Italy
Iceland
Boston, Nevada and California, USA
New Zealand
So, lets see how this goes ... it might turn out pretty lame if I don't find enough scenic pics.