Joined

Aug 5, 2014
Posts

682
I really enjoyed writing and occasionally reviewing my previous report so thought I would start another one as we have a month to go.
With 7 days to go until we depart I thought I would get a head start as I will be attempting to make this a live report over the next month. We will be flying from PER-SIN-MLE-AUH-LHR then trains GLA-EDI-INV flying again INV-DUB-PRG train PRG-MUC-ZRH before finally flying ZRH-SIN-PER. So far...

www.australianfrequentflyer.com.au
Unfortunately most of the old photo links are broken thanks to Photobucket and Imageshack both limiting their free accounts.
Does anyone have any other good free suggestions or is uploading to AFF now the preferred option given the new platform?
This trip was planned around 4 key points.
Attend the Ashes at Lord's
Making the most of our soon to lapse Hilton Diamond status (thanks Macquarie it was a great 4 years while it lasted)
Burn through my last 140k United miles
Collect a few more Michelin Stars while we eat our way around
After looking at our options we booked the following flights
PER-SIN SQ226 J A350
SIN-LHR SQ308 F A380 128,000 KF miles plus about $250 AUD in fees and taxes (including the $100 USD stopover fee)
AMS-VIE OS380 Y A320 Cash (this was originally going to be the sleeper service from Cologne but it was going to cost 4x as much and take 5 times as long)
FCO-DXB EK98 A380 F
DXB-MLE EK658 B777 F (New F) 90,000 QFF plus $650 AUD in fees and taxes
MLE-SIN SQ451 A330 J
SIN-PER SQ223 A350 J 70,000 UA miles plus $70 in fees and taxes.
We will be taking trains to make the final itinerary where we actually stay the night as Singapore, London, Brussels, Bruges, Amsterdam, Florence, Rome, Rangali then back to Perth.
So this is our route for the most part: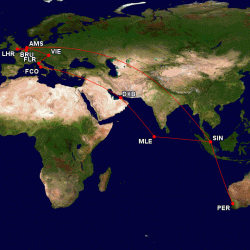 To get the most of our Hilton status we have mostly booked in that chain with the exceptions being Bruges and Florence where there are not any appropriate Hilton options. We may just requalify on spend after this trip but it is hard to tell. We definitely won't be on nights or stays.
We are booked in to stay at the following properties:
Conrad Singapore - cash
Hilton Bankside - cash
Hilton Brussels Grand Place - cash
Aragon Hotel Bruges - Amex credit
Waldorf Amsterdam - 95,000 Hilton points per night
Hilton Vienna Plaza - cash
Glance Hotel - Florence - Amex credit
Aleph Rome Hotel Curio - cash
Conrad Rangali - 95,000 hilton points with the 5th night free
Unfortunately the Hilton promos don't look as generous as our last trip but there are a couple of stackable offers we are going to be able to take advantage of.
Restaurants we have bookings at so far are:
Shisen Hanten Singapore - 2*
Spectrum Amsterdam - 2*
Steirereck Vienna - 2*
La Pergola Rome - 3*
I am hoping to add Ikoyi London for the 10th * once their booking window opens and avoid me having to rename the trip report.
Last edited: