Joined

Aug 5, 2014
Posts

682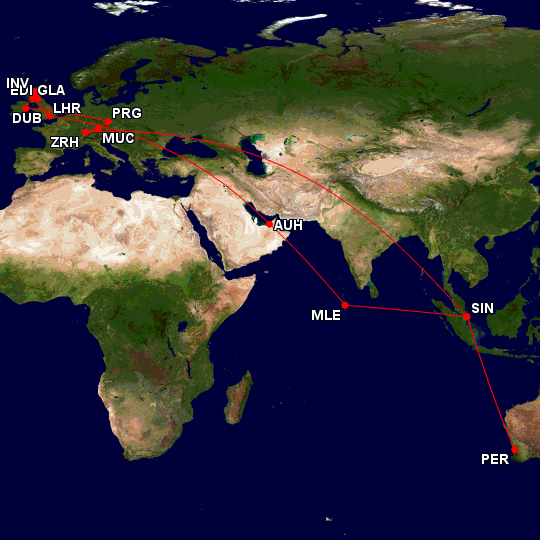 With 7 days to go until we depart I thought I would get a head start as I will be attempting to make this a live report over the next month.
We will be flying from PER-SIN-MLE-AUH-LHR then trains GLA-EDI-INV flying again INV-DUB-PRG train PRG-MUC-ZRH before finally flying ZRH-SIN-PER.
So far these are the flights we are scheduled to take:
SQ226 J B772ER
SQ452 J A333
EY279 F A333
EY11 F A388
BE6963 Y SB20
EI644 Y A320
SQ345 F A388
SQ215 J A333
Planning:
I began planning this trip close to 12 months ago after we had to cancel our planned March/April 2016 Suites trip to Japan. I was therefore determined we would use those points on SQ R and began looking at destinations where we could put our ever growing Velocity points haul to good use.
We decided that we would both like to return to Europe now that we were not restricted to a backpacker budget.
Around this time I learned of the AA devaluation, I had originally planned on using our Velocity points to try and get into the EY Apartment on one of our legs but with the relatively high AUD:USD at the time and a decent bonus on buying miles I worked out we could fly MLE-AUH-LHR in J/F for 40,000 AA miles which would cost about $1,200 AUD each. No brainer right?
Now that I had one flight booked it was time to get serious about the rest.
It would cost us 44,625 KF miles to fly SQ PER-SIN-MLE plus an additional $100 USD to add a stop over.
I wanted to avoid departing LHR due to the ludicrous APD and there was plenty of Suite availability out of ZRH so we booked in ZRH-SIN-PER for a further 97,750 KF.
The MACQ HHonors card gave us Gold status, 1 free night certificate and 40,000 points each which we topped up with some miles bought with a 100% bonus offer to book the Conrad Rangali. We ended up with 2 nights booked on weekend certificates and 2 on points.
While we were buying & gifting points I acquired some more to book 5 nights at the Waldorf Edinburgh over Hogmanay. This cost 200,000 (1 award night free) HHonors points with the hotel going for crazy money on cash rates buying points was a much cheaper option.
Hilton also decided to be nice and make us both Diamonds so we decided to reward their generosity by booking the Conrad Singapore, Hilton London Bankside, Doubletree Glasgow and Hilton Prague Old Town on flash sale rates that have happily coincided with the Double/Triple Up and 5,000 Visa bonus.
Seats are selected, cook is booked now it's just time to pack and fly.
Last edited: