Just received the attached from VA (despite my 'upcoming flight from Sydney' having been yesterday!).
Seems they're finally installing the new check-in system from Perth. Or has this been ongoing for a while and I just didn't notice anything when I passed through yesterday?
On a side note, I've always thought it'd be better to swap the VA and the JQ/TT check-in areas around so that the VA check-in was closer to the Lounge and Premium Entry. But realise that's no doubt a much bigger undertaking.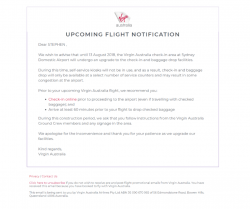 Last edited by a moderator: