Joined

Nov 12, 2012
Posts

20,083
Qantas

Platinum
I've been following along
@JohnM
's various WAnderings of late and have been W
A
Ondering where he's been? Certainly places that are full of weeds, some in flower so too late for the glysophate. But Western Australia? Nothing looked very familiar to me - I lived in the Murchison region (think inland from Geraldton) for three years, fresh out of Uni, coming up to, well, some decades ago shall we say. Has St Marko produced an actual Eden?
Lockdown here in Tas has made for idle hands meeting the scanner and producing some memories of my own WAnderings. Unfortunately very selective, as many of the memories are on 35mm slides; but here are a few ones from old prints, with dicey colours to boot.
It all started with this young and innocent kid, still at Uni (with approriate hair and choice of tie). He's in the big smoke of Adelaide, and has just been to the Exploration Division head office of Western Mining Cororation, then one of Australia's largest companies, where he was offered a job as a mine geologist. "You can go to the mines at Kalgoorlie, Norseman, Kambalda or Mount Magnet. Take your pick" said the corporation's Executive Director in charge of ExDiv. I'd never heard of Mt Magnet, so that sounded exciting, so that was that.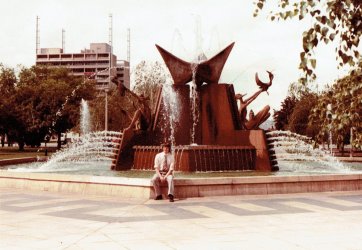 About 6 months later, after finishing Uni, off I went. Car on the train to Perth, then drive the 600km to Mt Magnet.
Through the wheat belt. Geez, its a bit dry ...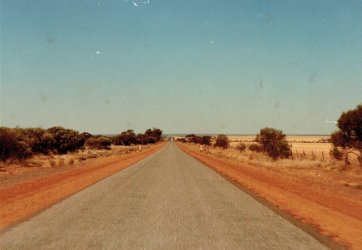 My car. Note the "No Dams" sticker on the back ... the height of the Franklin Dam controversy. This was a "ha ha" photo - "floodway" - geddit?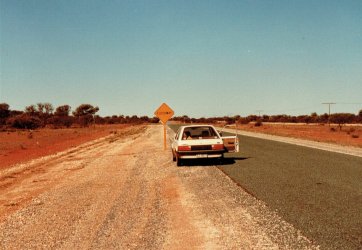 Not the same day, but um, OK, it might flood from time to time.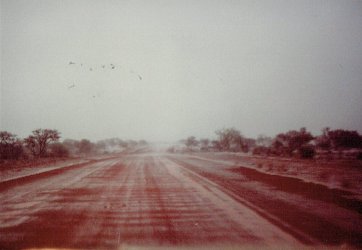 Back on my drive up to my home for the next three years. See any of those colourful things JohnM will have you believe are all over the place?
. Note, only one sealed lane. When the road trains came barrelling through, you pulled
r-i-g-h-t over!