Joined

Jun 23, 2016
Messages

1,300
Solutions

6
Points

575
Qantas

Gold
Virgin

Gold
aren't public servants meant to use best fare of the day on any airline ? Obviously ways around this.
Taking the AU gov travel policy as an example, it's just limited to best fare within 1 hour of intended travel:
Non-corporate Commonwealth entities (NCEs) subject to the Public Governance, Performance and Accountability Act 2013 PGPA Act) are required to adhere to the requirements of the Australian Government's domestic air travel policy in Resource Management Guide No. 404 when considering, booking or...
Rex is unlikely to be selected for two reasons, firstly the times. Using a random date in June it's clear how little impact this is going to have given only two flights per day. For outbound flights the 1 hour is based on prior to the booked time, for inbound flights it's based on 1hr after the booked time.
If anyone wants to fly on Qantas and is leaving Canberra (for an official trip to MEL) then booking the 6:05am, 7:50am, 9:35am, 11:55am, 4:25pm, 5:35pm will meet the AU Gov policy.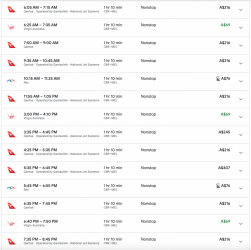 Also, Rex still doesn't publish the $69 promo fares in the GDS. What this means is that any corporate travelers booking via an agent will see the cheapest rex fares at around $120 and any VA fare will beat them provided it's around the right time. I suspect VA knows this because they've only dropped some flights to $69 with others still around $150-180 when it's only QF flights around.