Joined

Mar 31, 2011
Messages

2,060
Points

580
AKL-OOL, Business on 737-800:
I was lucky that for the long weekend in NZ, the direct flights to the Gold Coast didn't get cancelled. I'm driving up the Brissy anyway and only booked this route due to the good J class fares on offer and because I was excited to fly Qantas AKL-OOL direct, for whatever nerdy reason
After an uneventful time in the as per usual uneventful AirNZ lounge, I was offered a 10am welcome champagne upon boarding. Unfortunately I had to drive upon arrival so couldn't ask for a 10:05am top up which was a shame.
Flight left on time and headed straight out towards Queensland. About half an hour after the end of climb, food was served. To my utter delight, we weren't served yet another breakfast (had really bad scrambled eggs in the lounge already so zero need for a frittata or similar…) but rather "proper" lunch. By "proper" I mean Domestic, not proper proper trans-Tasman printed menu and all. Still no NP micro-salad, such a shame!
Choice was "Beef cheeks with veggies" or "Garlic chicken, also with veggies". The way our flight attendant shouted this at everyone, she might have as well yelled "Chicken or beef?" like in good old cattle class. Otherwise the crew was fine- friendly and attentive, neither particularly bad nor particularly memorable. I chose the beef and was not amused when I saw what kind of veggies it was- it might be seasonal but still not to my liking: Two slices of bright orange Pumpkin like the evil Helloween pumpkins straight from hell and, no less scary, a big bulb of fennel. Just a smother of beetroot relish and a pile of rocket on top and it could seriously be featured in my worst veggie nightmares.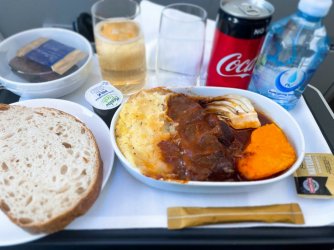 Now- with fennel I'm actually quite inexperienced and link the taste to something akin to toothpaste and it reminds me a little bit of being sick as a child as "fennel tea" alongside "chamomile tea" had been my mum's favourite torture devices when I wasn't well back then. Luckily, the fennel here was totally overcooked and hence derived of most its flavour which, in the case of fennel, is probably a good thing. I actually managed to eat some of it and the beef cheeks itself were excellent. I was a bit afraid that they are full of glibbery fat as bad beef cheeks often are but alas, they were actually really good- just the right amount of juiciness abc therefore really suitable for an airplane meal. Biggest surprise was the yellow "stuff" on the side which I couldn't quite identify to be honest, other than that it was more yummie than it looked- first I thought it was some kind of super sloppy polenta, then maybe a grainy potato mash, then I settled on polenta again. Not sure but it had some sort of flavour to it, cheese maybe or garlic, I wasn't quite sure. Went very well alongside the beef cheeks sauce and had another cheeky glass of champers with it- I figured one glass per hour should still have me in Coolangatta under the driving limit.
Unfortunately, everyone else also had the beef so I did't get the chance to see the chicken. Maybe it would have been the better choice if there were proper veggies with it (you know, "normal" veggies, like carrot and peas or broccoli maybe…) but I was quite happy with my meal anyway. Had I not have been driving- the crew was very proactive in keeping everyone "hydrated" throughout the flight.