Joined

Jun 23, 2016
Posts

1,993
Qantas

Gold
Virgin

Gold
I've received an interesting offer from United to buy status. In 2021 I only credited 2 flights to UA, earning 2 PQF and 2952 PQP which leaves me at the general tier however I've just received an 'invitation' to buy silver status for $703. I assume this is US$ so it's more like AU$977 for a year of United Silver status.
I'm curious if anyone else in Australia has got a similar offer given my offer looks cheap compared to others on flyertalk who are based in the US.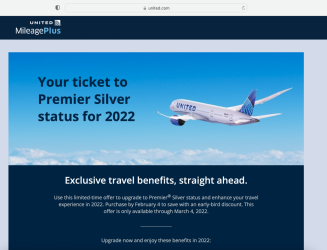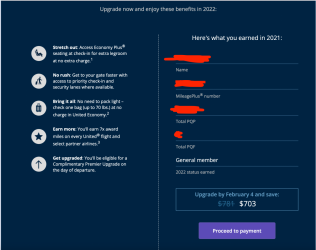 As a side note I'm not remotley intrested (maybe for $100-200 I'd consider it) as I've already locked in Air NZ *G through to 08/2023, QF Gold though to 02/2023 and VA Gold (no idea when this expires). I've used UA's program for crediting some of my more random flights but have never taken the program serious trying to achieve status. I've had some great redemptions from the program (all economy short haul flights) and am even more excited now that earning/burning on VA will be a possibility but I can't see UA Silver helping with that.