Joined

Jul 7, 2016
Posts

1,234
I've been meaning to share a trio of dessert/fortified wines for quite a while but finally two weeks of home quarantine have given me the opportunity (got caught up in the Brisbane "hot spot" outbreak after returning to Tas a week ago)...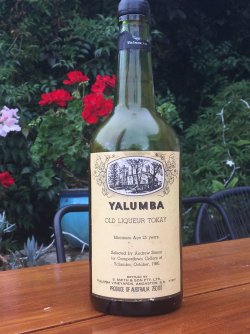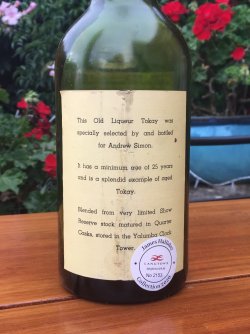 The fact that it is referred to as "Tokay" rather than "Topaque" gets my pulse racing right from the start! Still holding up remarkably well, the cork notwithstanding, gorgeous notes of honey and caramel with a complexity that builds with each sip, hard to imagine it can can become any more unified, jersey toffee and slightly burnt butter-scotch, delicious!
The next two equally delicious but I'll start with the Seppelt Vintage fortified Shiraz. At nearly forty years of age it is still drinking wonderfully well, red fruits still get the upper hand as if funneled through a copper retort to a syrupy essence, saved from being cloying by the blackberry-like acidity and faint hints of liquorice and cinnamon on the finish, yum.
Shall I compare thee to a summer's day? The 2007 Château Guirad is nothing short of exquisite. Upon first sip the wine has the quintessential taste and aroma of apricots peculiar to Sauternes but this has been amplified and expanded upon to create a synthesis of perception and reality. Chilled, home-preserved apricots, the syrup eaten by the spoonful, leathery yet yielding dried apricots and ultimately the evocation of drifting through an orchard of apricots in high summer buzzing with cicadas and bees and infused with the scent of mock-orange blossom. Full bodied, layered and dense enough to fully coat the mouth, the noble rot playing more than a supporting role in providing a foil to the unctuous sweetness, all the parts are in harmony. I tasted my first Sauternes in the mid-eighties (a 1967 Château Sudiraut) and have never abandoned the thought that they are the ultimate dessert wine... and finally a big thank you to Rug for gifting all three wines