Joined

Feb 23, 2015
Messages

2,644
Solutions

4
Points

825
I think I've worked out where the number is coming from.
My
points activity
page is showing a status bonus on refunded classic flight rewards. The 43 points on the end must have come from this, as I believe WP/P1 100% status bonuses always end in a clean hundred.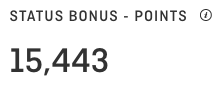 There's no pattern in how this status bonus on refunds is being calculated - here's an example of a 2 pax refund from last year where it has calculated different bonuses for each adult. Both pax are WP, and the refund was for JL F which wouldn't earn a status bonus anyway!