Earlier in the year, I wrote about the
first half of my Oneworld Award which started in Europe
. After a long stopover in Australia, I completed the second half of the trip in November. The final stop of this trip was Vienna, where I am now living for the next year.
This is what the itinerary looked like: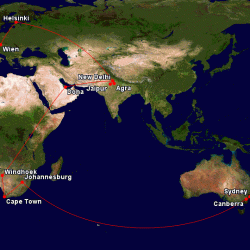 Most of these flights were booked as part of the Oneworld Award in business class. The Johannesburg-Cape Town and Cape Town-Windhoek legs were booked separately, as was the internal travel within India.
I travelled separately from Melbourne to Canberra, so I will start this trip report in Canberra, where I picked up the Oneworld Award. The first leg was to Johannesburg, with an overnight stop in Sydney along the way.