Joined

May 24, 2011
Messages

1,856
Points

855
Qantas

Platinum
Virgin

Red
Maggie one weekend, Sydney the next.
Queensland had consecutive long weekends this year - Anzac Day then May Day. We'd decided on north for the first and south for the second.
Flights booked with my Amex travel credit.
I bagged a great price at the InterContinental, a hotel I'd stayed at years ago. Refundable room and breakfast for less than IHG rate for room only. The were undergoing renovations so the booking came with an email warning from the hotel letting us know that there would potentially be construction noise during our stay. We weren't planning on being in our room during the day so we weren't concerned.
Two weeks out I received an email from Agoda thanking me for my booking cancellation. Wtf?
I called the hotel to ask if they knew anything about the cancellation but they referred me to Agoda. After eventually finding a number to call and sitting on the phone for way too long I gave up and sent an email. I received a response next morning advising that they had actually cancelled the booking as the hotel did not have rooms available on the dates we'd booked. Late that afternoon we received an email from the hotel. They had intended to first contact us directly to advise they would not be reopening until the week after our stay and then cancel the booking but they could see Agoda had beaten them to it.
Where to stay... We went round and round in circles and eventually decided to splurge (for us) and stay at a hotel we'd both seen many times from the water and thought 'maybe one day' - Pier One in Walsh Bay.
Sydney Harbour Hotel with Views | Pier One Sydney Harbour
Qantas was offering a package that came with major bonus points under their luxury deals promo. It was $699 for two nights in a water view room with a $100 f&b credit and a bottle of wine.
Water View Room - Pier One Sydney Harbour
We booked an early flight down to Sydney, late flight back home, to make the most of the long weekend. The J lounge was quieter than it had been the weekend before. Flight was pretty much full with my shadow not sticking.
Airport trains are such a rip off. Brisbane's is a shocker but at least it's a train that either terminates or originates there. The stop at the airport for Sydney trains is just a stop on a regular service. $19 each to Circular Quay. Even for two it's more than the cost of a ride share. No traffic though.
On the train ride in I decided to look at harbour cruises. We'd booked dinner both nights but nothing else. Decided on Clearview three hour lunch cruise and added the bev package that included spirits as well as beer and wine.
Clearview Glassboat Lunch Cruise
Who knows if they are ever full price ($120+$45) but we thought at $120 each total it was a decent price.
Weather was beautiful when we arrived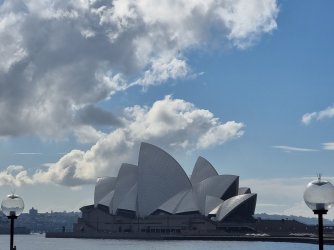 and it was an easy 15 minute walk from the station around to the hotel.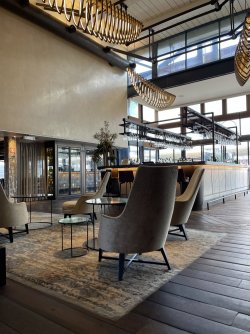 Bags dropped off, package confirmed, we headed around the waterfront walk to Darling Harbour.