Joined

Apr 21, 2012
Messages

1,294
Arrived back from Japan over the weekend, but not the way I wanted. I made a litany of errors on this trip, commencing with some minor and inconsequential things that I put down to some changed circumstances in life, that you usually spell D.I.V.O.R.C.E. Anyway, there was only one really critical error, and that occurred on the blackest of black ski runs at Myoko Kogen ski resort. The lessons learned from the errors that happened after that aren't probably going to help anyone too much, but you never know.
There were actually some famous last words that came out of my mouth before I tore through my ACL & MCL and was basketed off the hill by patrol. I doubt I'll be saying that exact phrase again. Getting a taxi to hospital (with no money - the Japanese cash economy really caught me out repeatedly this trip, despite it being my 7th), MRIs and language issues, packing up my gear mostly solo, these were just minor inconveniences compared with the hassle to dealing with insurers and airlines. I just wasn't really able to think clearly and rationally.
Impending ski trip to Colorado - cancelled
US-based job offer within my current firm that I've waited on for two years - delayed a while
Getting 'home' and packing the house up and finding somewhere to live - ahhhhh
I was due to fly HX NRT-HKG and VA HKG-SYD in two days time, VA codeshare. I'd already had a $925 UpgradeMe bid accepted prior to the accident on the second leg (irony? I only had one functional leg left). My leg was strapped at 30 degrees and no way was it going to fit into the Y seat of HX. First mistake: not putting the arrangements into the hands of my insurer to handle. Oh no, I'll just deal with HX myself, I'm an expert at this. Naturally they couldn't help at all, speak to Virgin this is their flight. VA of course were their usual helpful selves, but have no visibility over HX's cabins and loads. It was difficult enough for them to price up the upgrade - that will be $2,200 please. More conversations with insurers who then advised me
"you will need to seek medical clearance to fly and recommendation of a J upgrade for us to consider it"
. A lot of stressful time running (actually crutching) around Tokyo but job done.
So, next day I arrive to checking at HX. The staff review my ticket and say
"sorry".
Ummm, what?
"This is not a valid ticket, you need to speak to Virgin".
I didn't hesitate. This resulted in a 48 minute conversation between VA & HX on my mobile phone about the validity of the ticket. HX wanted VA to 'release' the ticket. VA respond with WTF are you talking about. Eventually VA reticketed it again. When I say eventually, I mean the plane was boarding at that time and I'm still at check-in, thankfully in a wheelchair rather than crutches. I couldn't help noticing a sign on the counter
"Upgrade to business for Y42,000 (AUD$565)"
. Oh dear.
So, let's rush to the plane. Express lanes everywhere of course. I'm probably the last to board, well definitely. Here's a pic of the HX J cabin after they had closed the doors: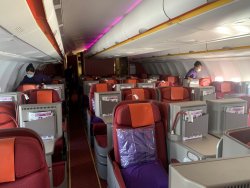 That's right, I was the sole occupant of the J cabin, not a single other passenger. Later I took a look at Y. Also 1/3rd full and mountains of rows to choose from that could have accommodated my leg. At no cost at all. Naturally I'm hoping the insurer reimburses most of that, but we will see I guess.
So was there another mistake here? Oh yeah, Expert Flyer. When you suffer an accident you are just not thinking straight. You are just trying to deal with the next thing on your list. Anyway, the crew were attentive I guess, the champagne was flowing. A good thing to, as there was absolutely no AVOD at all on this flight, just as there wasn't coming up. HX and cutbacks, huh? Hey, I should be thankful they were actually running the plane at all!
On VA82 I slept like a baby, I'm sure I got a solid 6 hours, didn't even need the AVOD at all. Well, I'm sure we are all looking forward to VA flying to HND. On a bright note, this was the flight on which I remade Platinum again, 6 months prior to review. Probably a good thing, I'm not doing much flying for a while now. I need to rest that leg and get it ski-worthy again
Any final mistakes? Why of course. I suddenly remember my car, parked at the airport, convenient as I'm loaded up with a pair of skis I won't be using again. It's a
manual
. Ahhhhhmmmm...
Definitely not fitting into a Y seat (well, unless there is hardly anyone in Y)