Joined

Jun 24, 2018
Posts

108
Moving sale! And by sale I mean take it all for free as soon as possible
More stuff may be added soon.
If you would like an item send a PM and we can work out postage, or free pickup/delivery around Sydney if convenient. Alternatively check the lounge meetups thread to see if we are at an airport at the same time!
*Q Bag Tags - Preference will go to highly active members for sets. If very popular I'll give them away individually so more members get something. Don't bother asking if you just want to scalp them on eBay.
*All amenity kits are empty - contents already donated. All pyjamas are a mix of M/L sizes.
1. General Complimentary Lounge Invite Valid 07 Mar 2023
2. General Complimentary Lounge Invite Valid 07 Mar 2023
3. Platinum Q Tag Red Kangaroo
4. Platinum Q Tag Red Kangaroo
5. Platinum Q Tag
6. Gold Q Bag Tag
7. Gold Q Bag Tag
8. Silver Q Bag Tag
9. Silver Q Bag Tag
10. Silver Q Bag Tag
11. Silver Q Bag Tag
12. Emirates F Pyjama sleeve with Pyjamas
13. Emirates F Pyjama Sleeve -Empty - (I use some others I have as laptop/document sleeves)
15. Malaysia Airlines J class Hanging Style Amenity Kit - Grey
16. Malaysia Airlines J class Hanging Style Amenity Kit - Blue
17. Qantas J Class Pencil case
18. Emirates J Class Roll Out style amenity Kit
19. Royal Jordanian Acqua Colonia Double Pencil Case
20. Martin Grant Shirt (Large)
21. Martin Grant Shirt with Emirates Pants (Large)
22. QF Business Pyjamas Set
23. Qatar Business Pyjamas Set
24. Qatar Business Pyjamas Set
25. Qatar Business Pyjamas Set (Medium)
26. Qatar Business Pyjamas Set (Medium)
27. JAL First Pyjamas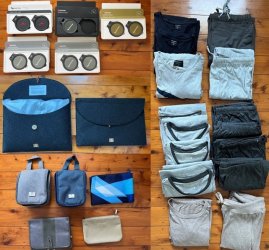 Last edited: