We will be upgrading XenForo (our core forum software) to the latest version in the coming weeks. This new release has some exciting features which I'll be highlighting soon. But today - in preparation for the upgrade - I'm making two important announcements:
1. Flight Tracker to be retired
TO ENSURE YOU DON'T LOSE YOUR DATA, PLEASE ACTION BY 31 OCTOBER.
After almost 8 years we will be retiring
AFF Flight Tracker
. As you may recall AFF Flight Tracker is our version of
Open Flights
which allowed our members to display their flight maps on their AFF profile. This has been a very popular service used by hundreds of our members over the years. It's an old application which is becoming difficult to maintain and incorporate in the new Xenforo release, so I have reluctantly decided that it's now time to retire it.
The bad news is that
users of AFF Flight Track will lose their flight details
once the service is retired. However, the good news is that you can very easily download your flight data and then upload it into another similar service not hosted on AFF. There are heaps of options, many of which are free. I have tested uploading my data to
FlightRadar24
and it works just fine. Alternatively, you can use the original OpenFlights system. I successfully tested this as well.
To download your data from AFF Flight Tracker, you will need to
login to AFF
and then open
AFF Flight Tracker
. Then select Settings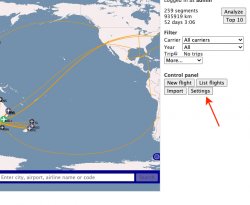 and choose "Backup to CSV"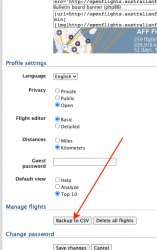 This .csv file has all your flight data which you can very easily import to your new system. I used the file "as is" to import to
FlightRadar24
and it uploaded without error. If you choose to use
OpenFlights
, you may have to reformat the dates to YYYY-MM-DD. This is pretty easy to do in Excel and once done, the file uploaded to OpenFlights without error.
2. New AFF Style
We have also changed the style we use to display AFF. The new style is based on the standard XenForo template and is better suited for some of the new features we will be releasing. To assist in the transition, we will be retaining the old style until the end of October. If you wish to change the style, simply scroll down to "Style Chooser" the bottom of any forum page

and then replace "AFF New Style" with "AFF Style (To be discontinued)". This style will be available until the end of October.
I really do try to limit these types off changes, so I do apologise for any inconvenience. But it will be worth it!!
For more on alternatives and for a discussion on the merits of Openflights vs MyFlightRadar24 you can view
THIS THREAD
.
Last edited: