Having been to parts of Europe many times during my flying life, I'm now starting to see it from the other side. No more 36 hour stays, but sadly I have to pay for the accommodations.
This trip has stops in Singapore, Zurich, Salzburg, Vienna, Graz, Ljubljana, Venice, Florence, Lucca, Milan, and then back to Singapore for a couple of days before heading home.
Flights are all with Singair. Return tickets from Melbourne to Singapore were purchased with actual money, whilst I was given much guidance from AFF members on how to use Amex point to redeem the sectors to/from Europe.
As we live a couple of hours drive from Melbourne, we started the trip with an overnight stay in the Ibis at Melbourne airport. A very basic hotel, but one that I used many times when commuting. Over to the terminal fairly early, to have breakfast in the Singair lounge. Security has improved the experience passing through the terminal quite a bit since I retired, so that was done very quickly. The flight to Singapore was on a 777, which had a newer cabin fit that the aircraft I flew on the Wellington earlier in the year. And I'd have to say that I hated it. I thought it was the most uncomfortable thing that I'd sat on in J class. Melburnian would have been impressed with their time keeping though. Off blocks a few minutes early, and into Singapore on time. Getting through immigration at Changi was very slow (mid afternoon), taking around an hour. My passport is registered, so I could have used the kiosks, but the boss would not have been happy if I'd abandoned her. The Singapore experience is generally pretty good, but this wasn't. Home for the next couple of nights was AirBnb apartment in the business district, not far from Marina Bay.
Our next flight was a very late night departure to Zurich. I had no particular reason for choosing Zurich, other than wanting to fly on one of their A380s. Some food for Melburnian here too, as this flight was initially delayed, and delayed, and delayed. And then cancelled, about an hour after it should have departed. Technical issues was the reason, and I was never able to find out anything more. Rescheduled for about 6 hours later. We were offered accommodation at one of the city hotels, but figured that by the time we took the overhead out that would only give us 3 hours in the hotel, so we returned to the lounge, for a very fitful night. The flight eventually got going the next morning. The aircraft was nice and new, but sadly had an almost identical J cabin fit out to that which I'd run into on the 777. Okay to sit in, but no real chance of any sleep, even though I thought I'd just fade out.
Arriving in Zurich, immigration was fast, and we took the train to town, to track down our AirBnB. We had no expectations of Zurich, but quite enjoyed our short stay. The AirBnB was very comfortable, and the city pleasant. My total lack of any language skills other than English and gibberish wasn't a hinderance.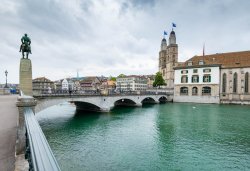 Next up we caught the OBB (Austrian) train to Salzburg. All of our train tickets (other than local ones) were booked months in advance. Curiously, on the OBB trains, business class is better than first. So, comfortable seats, in four seat cabins. You can get meals on board, but it's train food...not very good. As you'd expect from the Austrians, the trains ran exactly on time. In Salzburg we arrived at our AirBnB and were quite stunned at what we'd found. A really beautiful new apartment, within a very old building. Wonderful fit out... We were about 1 km from the old town, but very near the Mirabell Palace. This is a nice place. Plenty of hikes around town, and lots to see and do. Also took a bus trip Berchtesgaden, a beautiful little town that is mostly famous as the location of Hitler's "Eagle's Nest".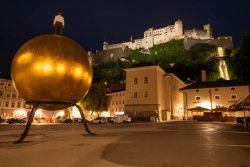 Another OBB train took us to the next stop, Vienna. Our AirBnB this time wasn't as impressive. Perfectly okay, but now our expectations had been raised. Easy tram ride to the city centre. The Spanish riding school is a high point here. We found that the city was crowded with tourists, but contrary to our expectation, the best times were mid to late afternoon.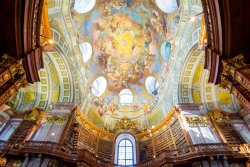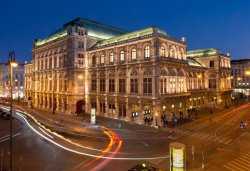 A partially restored Roman town, about 30 minutes out of Vienna made for a very interesting day.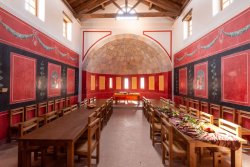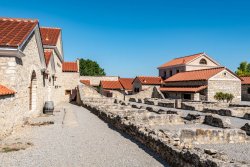 Our last Austrian stop was in Graz. Only a short stop, that coincided with a local festival. Many men in lederhosen and women in dirndls. No shortage of beer either. The AirBnB here was back to astounding. Old building with a huge apartment, beautifully decorated.
The train from Graz to Ljubljana wasn't anywhere near as flash, but still comfortable enough. Great view during the journey. The AirBnB in Ljubljana was right on the river, pretty much in the centre of town. We really enjoyed our time here. Quite the food and drink culture. Local wines were excellent. Hikes to palaces, castles, and gardens abound.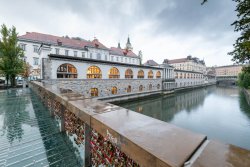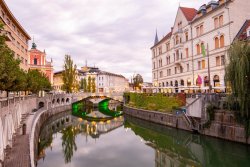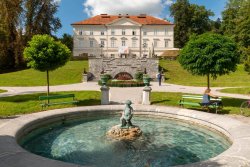 Our next move was down to Venice. We chose to simply book road transport for this (GoOpti). It was on time, quick, clean and dropped us right into the action in Venice. The AirBnB this time was an apartment right on the Grand Canal, within sight of the Rialto Bridge. The host advised us to take the vaporetto (water bus), and to keep him up to date on our progress via SMS. They met us at the boat stop and then led us to the apartment. We were far enough away from the main tourist routes that it was never crowded, but close enough to the sights that they were easily accessed. I'd thought it might be a difficult place to navigate around, but I found it quite easy. It's obviously a place that becomes very crowded, but early in the day the squares were empty, and by mid afternoon people seemed to have lost interest in the museums. This was another place that I greatly enjoyed, and I'd happily come back.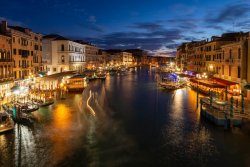 Leaving Venice, this time to Florence, it was time to experience the Italian trains. We'd booked a couple of trips with Italo. Venice station was reasonably crowded, but Italo have a nice lounge, so a quiet oasis to await departure. Their train was a VFT. Comfortable, and plenty of room for luggage. We booked these tickets about six months ago, and coupled with the seniors discount, 1st class was almost cheap. Certainly much cheaper than OBB.
Everybody had told us how much they loved Florence. We ended up with a somewhat different opinion. On first arrival, walking from the station, it struck us as pretty dirty, and very busy. In the central areas, it was drowning in a sea of tourists...and it was still pretty dirty. The Uffizi and Pitti museums are well worth the effort. The Pitti, you just walk up to early in the day, and you'll be straight in. The Uffizi, you'll need to book on line. But then you'll have to actually go and pick up the ticket. It's very poorly sign posted, and confusing. Thankfully we ran into someone who had been there before. We also ran foul of one of the thieves that we had been warned of here. It was incredibly brazen, and caught me out. Easily replaced though. The AirBnB here was in an excellent spot, so we never had to go far to find a decent watering hole or eatery. My overall opinion was that it was worth the visit, but I don't see a reason to return.
Next stop Lucca. Travelled there using the local trains. The journey over was on an almost empty train, with tons of space for us to keep our luggage near. Lucca itself turned out to be an extremely interesting place. Plenty to see and do, and just not crowded at all. A great base for some of the other spots like Pisa. The AirBnB was another wonderful place. A virtually new, and large apartment, within an incredibly old palace. Whilst we'd initially planned on either going to the coast or Pisa, in the end Lucca kept us happily occupied.
Leaving Lucca we were back on to that same inter town train. It started off empty as before, but by the time we arrived in Florence, people were hanging out the doors. I don't know what was on...it was a Sunday. Football somewhere perhaps. A short wait in the Italo lounge, and we were back onto their VFT to Milan. It was a rapid trip, hitting a high of 305 kph. It arrived in Milan Centrale, which is huge and quite confusing. We eventually found our way to the attached subway station, for the journey to the accommodation. Extremely crowded. The BnB was on the Naviglio Grande, more or less the local version of Southbank. The street barely had walking room it was so crowded. After we found our way through, which was fun with bags, we found that the AirBnb, whilst in a building adjacent to this, was also facing away, so it was nice and quiet. On Monday the crowds were gone, and whilst there were plenty of cafes and bars to choose from, it was back to being pleasant. This was only ever planned as a short stop, prior to flying out, so our hiking here was limited. Not as crowded as Florence, and it seemed like there was just as much to see...but everything is shut on Mondays.
Singair had sent us an email telling us that the airport was expected to be unusually crowded, because of the temporary closure of Milan's other airport, and suggested we plan on being there a bit earlier than usual. As we didn't relish fighting the subway on the way to the airport, we elected to move to an airport hotel for the night prior to our departure. As it turned out, the subway mid afternoon on a Tuesday wasn't crowded at all. Malpensa, despite Singair's warning, and various comments around the net, proved to be a very easy experience.
The Singair flight was nicely on time, and this time we flew in an A350. Internally it looked just like the upper deck of a 380. Ride seemed much the same, and it was a notably quiet aircraft. J seating was every bit as bad as previously though. Food and wine were good, way better than catering out of either Melbourne or Singapore. On arrival in Singapore (at about 6:30am) , we spent a few hours a the airport Crown Plaza, putting some sleep back in the bank.
Just for old times sake, I'm currently staying in the crew hotel in Singapore. But up on the top floors in a much nicer room. One more Singair flight to go...a 380 back to Melbourne on Tuesday.
AirBnB has overall been an excellent experience, with accommodation that's ranged from good to amazing, but at much less cost than hotels.
My flights on Singair were in large part paid for by points. So, I have to thank the collective knowledge pool on AFF for showing me how to collect, and use, them. Singair themselves were quite decent in most ways...apart from those damn seats.
Last edited: