Thanks for that, I hunted under the foundry name, artist name etc but for some reason could not locate them. I have now found the one in Troyes by looking 'down' on Google Earth and looking at the various likely candidates. This one is Place Jean Moulin, up he road from the railway station.

My mission for the next few days is to find the others by using Google Earth.

Edit: Now also found the one in Angers - in Le Jardin du Mail.

Plus in Salvador de Bahia on Largo Terreiro de Jesus
Hello OZDUCK. I was in Troyes in 2011, and had a vague recollection of visiting the Place Jean Moulin - there is a McDonalds close by. I searched through my photos, and sure enough, there was the fountain.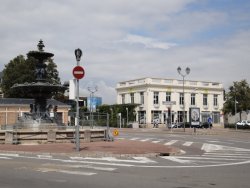 It was looking a bit sad then, surrounded by temporary fencing, but it looks a little more presentable now, albeit sitting in the centre of a traffic roundabout. I've not seen any of the other copies of the fountain, although I guess I saw the one in Launceston many years ago.