Hi All,
I have read a few other older posts on this but no direct comparison.
I was travelling SYD-MEL with Qantas exactly 1 week ago. This leg was the final one of my MEL-SYD-AKL-SYD-MEL trip (All with QF.) I have a Samsonite suitcase (have been to the website and can't seem to find exactly what type of samsonite it is although seems like it would be on the cheap side.) When I took this suitcase through customs after removing from the baggage carousel following disembarkation of QF144, there was no problem with the case. When I wheeled it maybe 200 metres to the Qantas domestic transfer check-in area at Sydney intl terminal there was no problem. However, when I disembarked QF 479 (and those QFF's with gripes over bags not coming off the line in a certain order will find the irony in this I hope,) My Suitcase was first off the line and damaged! I had difficulty wheeling it to the person picking me up, and when I let the bag stand by itself, I noticed that it looked like it was about to fall over. I didn't think it was such a huge deal as I thought it was a loose wheel and that I could repair it myself. I am flying up to CNS on Tuesday and was about to begin packing earlier on this evening and noticed that a section of the plastic re-enforcement inside the suitcase on the right side of the rear of the suitcase where that wheel sits (if viewing the back from the rear,) has been hit with blunt force and severely damaged beyond the point which I can repair.
The question I have is what is my best option? Should I make a claim on my TI ($200 excess?) Should I speak to QF? Should I just organise to get it repaired at a Samsonite service centre (There is one about 10Km from me?)
If I claim under TI, will they want proof of purchase (Which I don't have as it was a hand-me-down?)
It is a large suitcase, has a TSA-lock, zip lock and 3 wheels (containing numbers 0-9) which operates the zip lock.
It probably isn't part of their most expensive line, but I've been all over the world with it so there's sentimental value here, plus I have a photo of it with the relevant tags stuck to it which proves it was handled and damaged on that flight.
Or, should I be dishonest and take out TI for my QLD trip and claim it was damaged then? (I would hate to do that as it would make me feel too uncomfortable,) but it's my way of asking whether or not that would work?
I have provided 2 pics. The first picture shows the damage to the plastic re-enforcement insert on the bottom right side. (You may have to zoom in to see the true extent of the damage.)
I have added some brightness to the second image by applying a watercolour effect to it. You can match the damage from the first photo to the second one when you see the massive indent in the vicinity of the bottom left wheel ----> (Rear right wheel when the suitcase is standing upright and viewed from the back.)
1.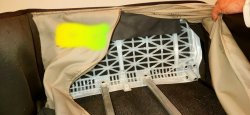 2.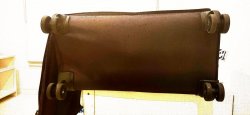 I thank all of you for your continuing support and look forward to any replies. Cheers!