Joined

Aug 1, 2008
Messages

1,998
Points

705
Qantas

Platinum
Virgin

Red
G'day folks it's been a while. Well in my case it's been
738
yes 738 days since I've departed Oz
I booked a J fare to NZ as soon as the DSC promo reared its head and booked Mrs.CM on a J Classic Reward. Some of you may remember my home airport is EMD which they have spent a few million dollars on since my last TR and this is where the journey begins. We left home at 7.00 as we are 100kms from Emerald AP and flew down this morning 19/06 on the one and only flight ex-EMD on a Saturday QF2403 departing @ 8.55. Checked in online and was given 1A which I rejected and then got allocated 2A. The wife was on a separate booking and copped 12D which was soon changed to 2B at the counter. Dash8-400 with a lady pilot and male first officer.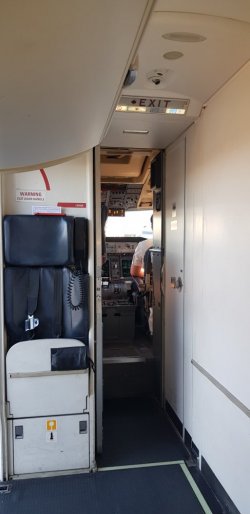 Departed a few minutes ahead of schedule and not long after they announced that the urn wasn't working so no tea & coffee would be availble
anyway it miraculously fixed itself not long after and the normal rations were then provided with a hot beverage option. This was my 5th flight for the week after an EMD-BNE-NTL return during the week for work. It was a standard Dash8 flight up until we came into land 10 minutes ahead of schedule and it started getting wobbly from a strong cross wind and the pilot aborted landing only 10' feet above the tarmac. They hit the gas and took off again to do a lap and come in for another approach. Mrs.CM nearly had kittens and I have fingernail marks to prove it. Eventually we landed pretty much on time ~10.15 and all was well. I thought the pilots did a great job as the crosswind had the nose of the plane up to 20 degrees off straight at times as they approached the second time. It was a first for me doing a fly through.
Tomorrow BNE-AKL on QF119 which is still showing as an A330. Now we just have to fill the day in in BNE.