United is overhauling the requirements to earn MileagePlus status from 2020, replacing Premier Qualifying Dollars (PQDs) with Premier Qualifying Points (PQPs) and introducing Premier Qualifying Flights (PQFs). The minimum spend requirement is also no longer being waived for non-US residents.
Essentially, one PQF will be equal to one flight sector. PQPs will be based on spend for flights on United, and a percentage of award miles earned on partner airlines. The distance travelled on United flights is no longer relevant.
From the United website, here are the new United status earn requirements from next year:

And this is how the United website explains how to earn PQFs and PQPs on partner airlines: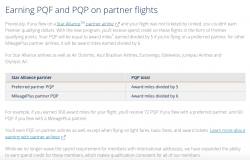 Overall, these changes are terrible for me and cement my decision not to bother re-qualifying for United Gold status after next year. Asiana Club, here I come!