Joined

Apr 1, 2009
Posts

19,435
Qantas

Platinum
Virgin

Red
I did a quick scan but didn't see a similar thread topic.
---
American Express sent me an offer two days ago to apply for a "Flexible Payment Option", where I have the choice of paying my Card in full every month or extending the payment over time. I'm talking specifically about the Platinum Charge Card here, which makes this interesting.
The offer came with a sweetener of 25,000 bonus points.
I had a good read and ended up working out that I wouldn't use the offer, mainly because anything that was carried over to the next month (and all future charges over the limit applied for) ended up with an interest rate of 20.74% p.a. until repaid. I've enjoyed "Pay Your Way" on the Reserve, but this seemed ridiculous. So I gave it no more thought.
This afternoon I received a phone call from AMEX checking to see if I had seen the email or not. They were keen to sign me up over the phone and keen to point out I could apply for the offer but not actually use it (i.e. simply pay my balance in full each month) and still receive the bonus points. Essentially, 25,000 points for free.
I pointed out that I valued them at 12,500 Qantas points and thought it was a bit of a lowball for such an offer, considering I had bought some wine over the weekend from Qantas and they'd given me 15,000 bonus points. They were unable to increase the offer though.
So, has anyone else received the offer and/or had a phone call to follow up on it, and what are your thoughts on taking it up, especially seeing as it's essentially 25,000 points for free?
I did ask him if applying would leave a query on my credit file and he confirmed it would. I presume I would essentially be applying for a loan, even if I didn't take it up?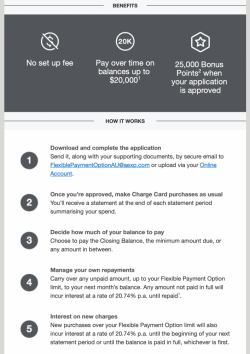 ​