Joined

Aug 26, 2010
Messages

5,574
Points

855
After almost 17 months in Blighty, I am on my way again...albeit in a jolly inconvenient manner.
Griselda, allegedly, had researched my predicament and advised me that the only efficient (as if efficiency was something that I spent hours thinking about, let alone striving for) means for me to reach the USA was via a two week jaunt to Mexico. Now I have been to Mexico before, even my Coates Plymouth Gin, Navy Strength, soaked mind can remember the horrors of Chihuahua back in 1996. Griselda had organised a less than fun filled week at a Holiday Inn where the staff were not remotely aware of a full bodied Cabernet-Shiraz and the only entertainment was a cut down billiards table where the guests were forced to play something called pool. (It reminded me of those days in Blighty when Fred Trueman introduced the much and rightly maligned
Indoor League
.)
So, in my new found status as an "internet sensation" (whatever that is) I needed, apparently, to engage with my "fan base" in the United States. (these are all terms Griselda uses and are, quite frankly, baffling to me.)
"Mr Hancock, if you fly to Mexico and spend 14 days there you do not have to quarantine and you can fly to the USA and you will not need to quarantine there either." Griselda informed me over some sort of television meeting. ) Modern technology never fails to astonish me, or for that matter annoy me.
I had no desire to fly to Mexico and quite frankly I wasn't overly enamoured by a visit to the USA, but I was growing restless in the East Anglian Pile, even the crop rotation in the field I could easily view from my state room window was ceasing to entertain me. (It was not even possible to drag the tenant farmers in for a dressing down, how the world has changed, and not for the best.)
So Mexico it was.
"I have found a flight for you Mr Hancock........but I can't get you a seat in First Class" Griselda informed me, I sensed a tone of glee in her voice.
Well this was going well, not only was I heading to somewhere I did not want to go I had travel there in Business Class. What sort of dystopian nightmare was this? I acquiesced to this only because I believed common sense would prevail and British Airways would see sense and ensure my presence in the correct cabin.
I still had to work out how I would get to London's Heathrow Airport from the provincial city of Birmingham, an appalling metropolis in the middle of England. Griselda had organised rail transport and I found myself on something called a "Super Voyager" operated by some sort of Italian company called Avanti West Coast. Oh how I yearned for a sleep cabin in a coach pulled by the Flying Scotsman.
Now First Class on these new fangled train services is quite frankly appalling. For a start there is no champagne when one takes one's seat, the meal selection is a disgrace and worst of all absolutely no cutlery to speak of. I made do with a tepid and weak cup of English breakfast tea. Griselda will be sending a strongly worded letter to Mr Phill Wittingham (who does not sound very Italian) with some advice on how to improve service.
Apparently there is no First Class service on the Heathrow Express (Heathrow Express? I did wonder if I had inadvertently stumbled into a Harry Potter novel.) and I had to make do with something called Business First Class. there was no champagne and no food. How on earth this rail company remains a viable business I have no idea.
With no valet to take my bags from the train to the First Class Check In Suite I had to fight my way through hordes of.....well.....people. What an earth were they doing trying to fly anywhere? Griselda has already penned a stern letter to Mr Johnson about this. Quite why ordinary people are allowed to travel in beyond me.
Whilst I had not flown for 18 months it all came flooding back to me as I entered the British Airways First Class Check In Suite. What I did not expect was that firstly I was going to have to fly in Business Class with the masses, and secondly the Concorde Room was closed and had been replaced by a space on the terrace in the First Class Lounge. Whilst disappointing it was still mildly pleasing not to find myself mixing with those dreadful OneWorld Emerald Types in the First Class Lounge.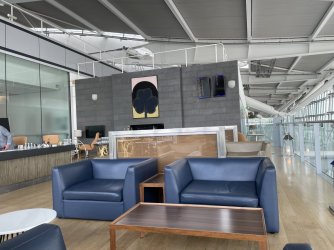 The Concorde Lounge area still maintained an aura of exclusivity and there was still some pleasure to be gained from popping in and out in full view of this One World Emerald types wondering what lay behind the magical door.
What was poor was the food offering - I expected rather more from my Steak and Ale Pie - fortunately the staff has not changed, and knew to provide me two such pies - given they were effectively "party pies". Fortunately the Grand Siecle flowed, taking my mind of the impending twelve hours to be spent in the hell that is BA Business Class.....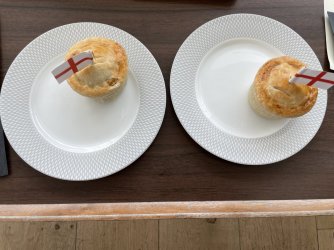 Last edited: