I have a confession to make. Promise you won't pass it on. When I was at Uni - the first time, in the late '70s - I did a botany course called
Weeds of Tasmania
Field Botany.
Why
,
on God's earth
, you are entitled to ask! Mainly, because the 'Physics girls' were doing it and there being b-all females in Geology after first year (before you sneer, 2/3 of my Year 12 geology class were girls!). Plus it seemed like an easy 3 credits and it was held late in the summer holidays, after vacation employment with the Mines Dept had finished.
Basically, a week at Mt Field National Park, out of Hobart, staying in huts and going out each day in the group led by the wonderfully eccentric head of Botany at UTAS, Prof Jackson, assembling a collection of native plants which we had to identify, mount in a folder and present. My main remembrance of it was in the National Park, with the Prof identifying some plant-or-other, and the the students descending on it, ripping twigs or branches off - whatever came loose - as specimens for their collection. Left a trail looking not unlike a plague of locusts had descended in a narrow line through the park. Well, not really. The park was a big, abundant place.
Only some of the plants were rare
.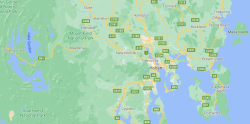 Anyway, that's my background with plants.
Oh, except when doing field work of course as a student and through my career. In Tas it was mostly rain forest - with the emphasis on RAIN, with the wonderful Fagus (including a wonderful deciduous species that changes colour in Autumn), the sassafras, King Billy Pine, Huon Pine (if you were in the deep-south-west), blackwood and all the rest. Nice enough, but unfortunate when they got in the way - like 'ho. That's why they invented machetes and axes and chain saws. Oh, and later, field assistants.
And of course they were home to leeches. I never, ever got used to leeches, which was why I never worked in western Tas, Ugh.
And then there was the 'horizontal scrub'. This is accurate:
The tree develops thick solid branches that droop under their own weight while still thin. They then thicken up and grow more vertical shoots, which in turn may droop as they thicken. The result is a tangled mess of very thick solid branches, as well as thin stems. The process is repeated until a lattice-work of tough, slippery branches covers acres of rainforest.

All rain forests are described as impenetrable but the habit of this species to form a vertical and horizontal tangle of branches made progress through this kind of countryside notoriously difficult for early settlers.

Tasmania's horizontal scrub did have some benefits though. The guards at penal settlements surrounded by rain forest, such as at Macquarie Harbour on Tasmania's west coast, knew that even if a prisoner escaped, the chances of getting through such a tangle of forest were virtually impossible.

Today, the only way for a bush-walker to negotiate such entanglements is to scramble over the top, often at a height of 6 to 10 metres above the ground. The walker, especially in winter if the thicket is snow-covered, is then in danger of slipping through rotted sections and, so the story goes, of being trapped without leaving a trace.
ANY-way ... as we are trapped in Tas, and I get a discount with the Cradle Mountain Hotel via the RACT AND got $100 from the Tas government to spend, some friends and I decided to visit Cradle Mountain National Park, where I haven't been for ooooohhh .. 30 years? When I get home I'll post some pics of when I climbed Cradle Mountain and did a lot more very fit-type-stuff.
The drive up from Hobart was rainy nearly the whole way (typical spring weather), so unfortunately no ;pics along the way.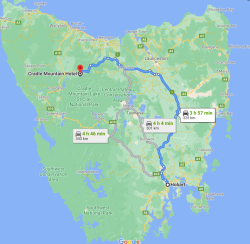 The road gets very bendy as you approach the park - into the area of Hydro schemes, big impoundments and lakes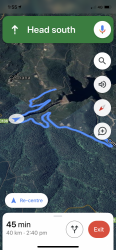 We reached the hotel. Its just outside the National Park - its not the 'Cradle Mountain Lodge - that's the place to be, if you can afford it. Cabins, each with log fires etc ... There is also an extensive 'Wilderness Village of lower-end huts etc. All put in in the past 20 years.
My room rather plain: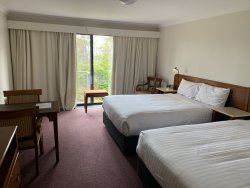 I got a spa for those post-walk aches and pains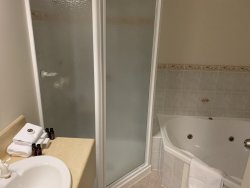 View out to the forest: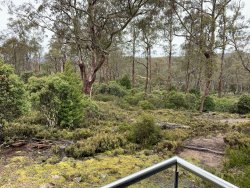 There are also lounges scattered about with log fires. We took our own wine and pre-dinner snacks to have there and no-one minded. This isn't as '70s as it looks ...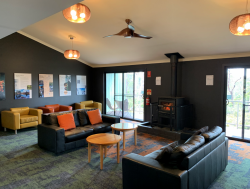 We went to the relatively new Visitors Centre. Inside this grey Taj Mahal (photographed from the HUGE car park) its basically a ticket office. No displays or interpretation, just booths that will explain walks etc to you, and sell some souvenirs.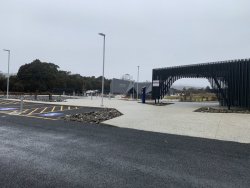 I think this display is about bush fires? No idea.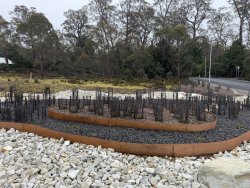 But there was some stuff to keep the interest up: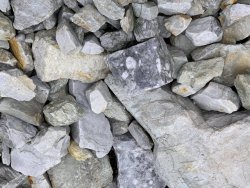 Last edited: