Joined

Jun 7, 2006
Posts

10,473
Qantas

Platinum
Back in mid-January 2020, I booked this voyage for January 2021:
Explore Raja Ampat & Spice Islands with Coral Expeditions
Then…, well, you know the story… It crashed and burned in July 2020.
My deposit lay around with Coral Expeditions until at the end of January 2021, when they announced a whole new slew of coastal voyages within Australia. I pounced onto it immediately!
Still thinking it too risky to choose one outside WA, I opted for 12 nights Broome-Fremantle in October:
Abrolhos Islands & the Coral Coast | Broome - Fremantle | 12 Nights | Coral Expeditions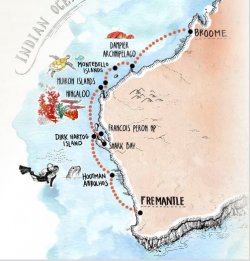 Although I've visited many of the places by land, and the Abrolhos by boat (
Not shipwrecked or mutinying, waving - from the Abrolhos Islands
), it will be interesting to do most of the repeats in a different way.
PJM snared some leave, brother and SIL also signed on immediately and after a casual chat at dinner one night a couple of weeks ago where I mentioned that I thought that cancellations had thrown up some vacancies, good friends checked it out. Sure enough, they could join at the last moment.
It also turns out that
@Port Power
is on the same voyage.
So, come Tuesday, we're on the bird PER-BME and then aboard ship the following day to start the voyage to Fremantle.
The flight has a chequered history. First it was a F100, so no J but the upside of 2-3 config. Then it was changed to an all-whY A320. Finally, a few weeks back, it was changed to a B738. Woot-woot! The four U bucket seats were swiftly snared as UPGs and the load looks very light so late-aboard friends may have a good chance of UPGs.
T-80h early yesterday and Row 1 opens. Move forward from Row 2 accomplished.
Good 'ol EF keeping track of goings-on.
Could this be a stirring of Life As We Once Knew It™?
Tomorrow morning it's off for the mandated Covid swab 72-48h before boarding. Ha! Locked up in St Marko's Covid Sterility Paradise™ for about the last 20 months, there's no chance of that returning a positive. The barrage of 'SailSafe' paperwork from Coral Expeditions has been something of a PITA, and their handling of it a bit messy (double-check EVERYTHING if you are considering going on one of their voyages).
Bizarrely, not once have they asked what our vaccination status is.